Aaron Rodgers reach an agreement to extend his new contract.
This offseason, the NY Jets traded several picks to the Green Bay Packers in exchange for quarterback Aaron Rodgers. Now he has feeling comfortable enough to sign a new contract with the team.
As per the NFL salary data, the NFL Network Insider Tom Pelissero reported that star quarterback Aaron Rodgers agreed to a new two-year, $75 million guaranteed contract through the 2024 season with the New York Jets on Wednesday afternoon.
Pelissero said Rodgers is taking a pay cut of roughly $35 million as his previous deal had nearly $110 million guaranteed remaining. He added that the four-time Associated Press NFL MVP Aaron Rodgers' new contract is technically a five-year deal with two options years to spread out bonus proration. The pact also creates a 2023 cap number of just less than $9 million.
Why Quarterbacks are hating the Netflix Quarterback series?
In 2023, the contract is set to pay him $1.165 million but it will go all the way up to $107.55 million in 2024.
Rodgers confirmed the deal on Wednesday. He has an intention to play more than one season with the NY Jets.
"The team gave up significant pieces for it to just be a one-year deal," Rodgers said, via ESPN's Rich Cimini. "I'm aware of that. … Anything could happen with my body or the success we have this year, but I'm having a blast, so I really don't see this as a one-year-and-done thing."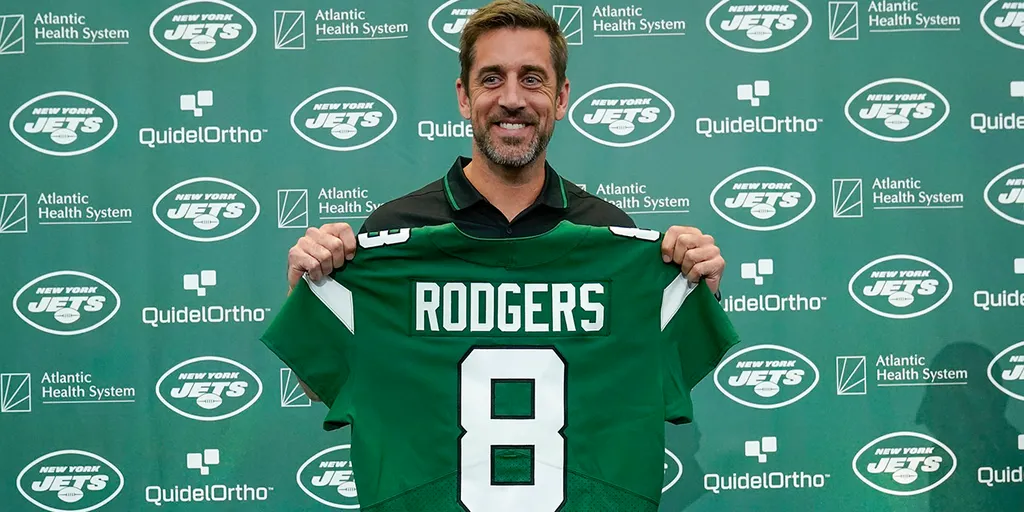 Previously, Rodgers had a three-year, $150 million deal with the Packers that he signed in 2022. He had nearly $110 million guaranteed on his old contract and is taking a pay cut of $35 million to play for New York.
Quarterback Justin Herbert creates history in the 2023 season
Aaron Rodgers is one of the five quarterbacks that have won three or more MVPs. Each of the other four signal-callers played for multiple teams and half of them won Super Bowl with their second club.
However, Aaron Rodgers is clearly enjoying this change, and this new contract shows he's serious about wanting the NY Jets to compete in the Super Bowls.