Bucs Quarterback Baker Mayfield enjoying life with wife Emily Mayfield.
The 2023 NFL offseason is going very well. This offseason many players will use their time to reset, relax, or even review the playbook, but Tampa Bay Buccaneers quarterback Baker Mayfield is doing something far different.
Baker Mayfield is celebrating his fourth anniversary with his lovely wife Emily. The couple enjoyed the memorable day before training camp begins in a few weeks.
However, his wife Emily shared a post of the couple's time at Terranea Resort in Southern California on her Instagram account.
She captioned the post writing, "Happy 4-year anniversary to my sweet husband. These last few years we have grown in so many ways, and I am SO proud of where we are in our marriage. What a fun way to ring in #4! And thanks @terranearesort for the getaway we so badly needed! 💙 I love you @bakermayfield."
Must Read: Why did Kim Kardashian hide this about Brady from the public?
The lovebirds are clearly having a memorable time as they relax and take a break from what will definitely be a busy time when they return to Tampa Bay as they celebrate their anniversary.
Last season, Baker Mayfield began with the Carolina Panthers, but after just seven games with the Panthers, he was signed by the Los Angeles Rams.
Currently, Mayfield is competing with Kyle Trask for the starting job on the Buccaneers. He was signed by the team on March 16, 2023, for a one-year contract.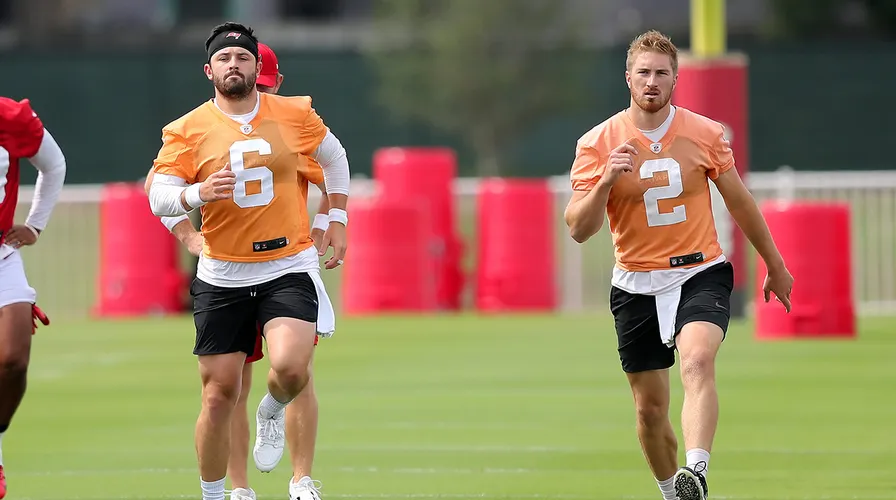 According to all reports, both quarterbacks had their moments during OTAs and minicamps, but when the pads are donned, the "proper stuff" starts. Todd Bowles, the head coach, will need to make a choice about who will start the season.
Will he go with veteran Baker Mayfield, who is currently a known commodity in the NFL, or will he choose Trask, who has previously played one game with Buccaneers? 
It'll be interesting to see who will start the season, but Baker Mayfield isn't worried right now because he's celebrating his anniversary with his wife.