Former legendary quarterback Tom Brady has retired from the NFL after spending 23 seasons and the Tampa Bay Buccaneers have made it official that they have moved on from him.
The Buccaneers face a new quarterback for the 2023 regular season after letting go of a future Hall of Famer.
Reporters from The Athletic recently approached Baker Mayfield and asked for his thoughts on his new team, particularly on replacing NFL legend Tom Brady. Mayfield's reaction on the matter could provide interesting perspectives on the changes happening in the team.
According to a quote from Baker Mayfield via PFF and The Athletic, he stated, "I'm not built like him."
It's no secret that Baker Mayfield has some big shoes to fill when it comes to his career stats, especially when compared to the legendary quarterback Brady. Although the original response had a touch of humor to it, the reality is that Mayfield has a lot of hard work ahead of him if he wants to keep that starting role.
Baker Mayfield has had a lot of expectations placed upon him since being drafted as the top overall pick in the NFL. However, it's important to remember that it takes time to adjust to the professional level. 
Kyle Trask, a talented second-round pick, is also part of the team and can learn a lot from Mayfield's experience. Keep supporting both players as they strive to improve and reach their full potential.
The Buccaneers are keeping a close eye on their roster this season with Trask in the mix, which might mean a shorter leash for some players. The NFC South is always a competitive division, and with recent changes, the Bucs are ready to make some waves and come out on top.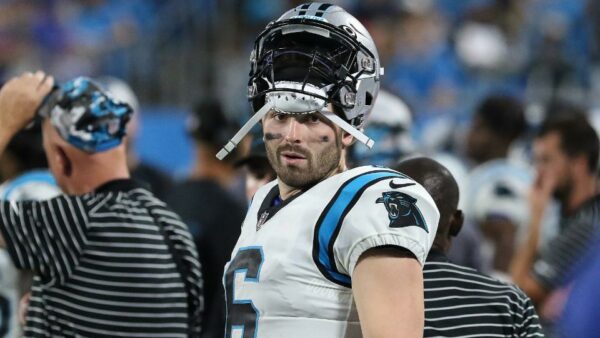 With his impressive amount of experience, Mayfield is undoubtedly a quarterback to keep an eye on in the division. The question on everyone's minds is whether his skillset will be enough to earn him a permanent starting position with the Buccaneers. Let's see if he can prove himself on the field.
It's possible that the Buccaneers are simply using him as a stepping stone to a different quarterback down the line unless he manages to prove them otherwise.
Read more: Seahawks wide receiver Cade Johnson got injured in the 2023 season
Make sure you bookmark NFL Exclusive for the latest NFL news, daily updates, and many more things!