Cam Newton's shocking reason for not being selected in NFL
Cam Newton revealed a shocking reason for not being in NFL. Many fans and experts have a question that why he is not in NFL. Even he is not in the age of retirement.
Cam Newton is 33 and despite being in injury in past years he appears to be in great physical shape. He didn't appear in 2022 not even in a single game.
Now it's 2023 and fans are expecting a genuine answer as that why he is not in NFL. In 2023 he also remains unsigned. 
The longtime Carolina Panthers quarterback has his own theory of why he is not in the NFL. He recently explained some reasons on Josina Anderson's "Undefined" podcast for not being able to get selected for any NFL team.
The reasons were shocking and it has nothing to do with his ability in the field. 
The former MVP believes his hairstyle and his dressing sense have contributed to his inability to land on another roster.
"It's (his chance of being in the NFL) been hindered and I'm not changing," he told CBS Sports' Josina Anderson.
"People have hinted towards to say like, 'Cam, we want you to go back to the 2015 clean-cut Cam. But that was a different me. Right now, where I'm at, it's about embracing who I am," he said.
The New England Patriots signed him during his dreadlocks phase, and he got to play in 15 games in 2020. He returned to the Carolina Panthers in 2021 and played in eight games there.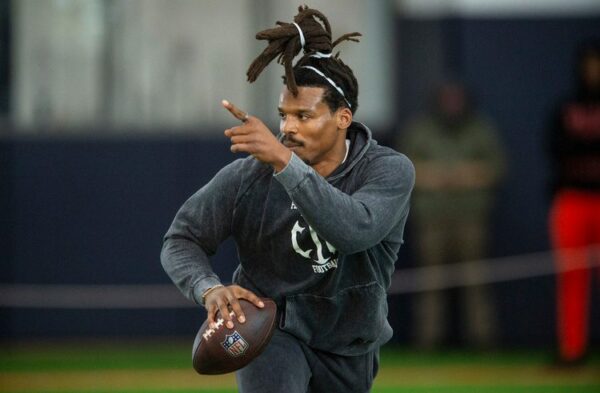 Several times Cam Newton has claimed that people were indirectly pleading that he should cut his hair.
"There was hints toward it," he said, via Bleacher Report. "And I gained a lot of great counsel from a lot of people. And the thing that is always mentioned is, 'Yo, Cam, you scarin' people the way you look.'
He also compared himself to other players having similar hairstyles but still had jobs.
"And I would say, 'Yo, like I'm not gonna name names, but there's other quarterbacks that's in the league that don't look like me, but they got long hair. They don't scare them, do they?' So, we can go tit for tat, tat for tit with it. But I would just turn and nod to that and say, 'That's not the reason why I'm not in the NFL.'"
Fans immediately started to react to the opinion on Cam Newton's thoughts and started to comment on it.
"I think his hieroglyphic type fonts are hindering his chances more than his hair/clothes," one fan wrote.
"Cam in all honesty you just don't got it no more my boy," another fan said.
"Sometimes you just gotta accept that you fell off," another fan wrote.
"The hair ain't the problem Cam," another fan commented. "You not the guy anymore. That's the problem."
Cam Newton has previously said that he will not cut his hair until one of his daughters gets married. He has also shown his interest in being to be a backup for certain quarterbacks but that also doesn't change his current situation.
Read more: NFL Analyst Names Three Best Free-Agents Were Left in This Season