Finally, Florida native Dalvin Cook finds a new home for one more season.
On Monday, August 14 the AFC team the New York Jets agreed to a one-year, $8.6M deal with the free agent running back Dalvin Cook.
BREAKING: Jets signing RB Dalvin Cook to 1-year deal worth up to $8.6M. (via @TomPelissero + @RapSheet) pic.twitter.com/q2FyVs74yg

— NFL (@NFL) August 14, 2023
However, running back Breece Hall quickly responded on social media after the addition of a new member on the Jets roster.
He showed his respect for Dalvin Cook by liking several tweets welcoming him to the Jets from the official NFL account and his teammates. Hall also retweeted several posts.
Jets defensive tackle Quinnen Williams also welcomed Cook by sharing a tweet with a rocky caption. He writes, "Hell yea RB room is sick Dalvin, Breece, MC" with fingers crossed emoji and two champagne bottles.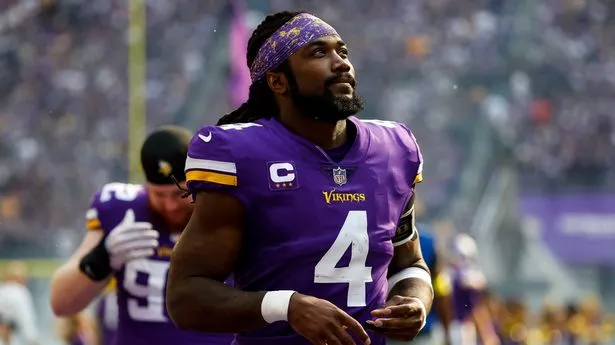 Whereas, Jets cornerback Michael Carter II shared a rocket ship emoji in response to Dalvin Cook's addition news.
Star player Dalvin Cook enters the NFL in 2017. He was drafted by the Minnesota Vikings in the second round of the 2017 NFL draft. He spends the first six seasons with the Vikings where he earned four times Pro Bowl honors.
He was released by the Vikings on June 9, 2023. Last season, Cook had 264 carries for 1,173 rushing yards and eight rushing touchdowns, 39 receptions for 295 receiving yards and two receiving touchdowns, and four fumbles.
However, NFL fans also reacted to Dalvin's addition news:
We really paid a washed RB 8 mil no Super Bowl for us

— Peter Parker Bets (@PeterParkerBets) August 14, 2023
i'm a vikings fan, watched every snap of his career. if he has elite blocking and can get loose outside he will give you huge plays, but there's gonna be about 4-6 plays a game where you lose yards when you didn't need to.

from what i know about jets o line it's their weakness

— Kane Fox 🦊 (@KaneFoxxx) August 15, 2023
Goes from getting spanked by Rodgers twice a year on the scoreboard, to getting spanked by Rodgers twice a day in the locker room.

— Eric (@Torrin161) August 14, 2023
Hope, this upcoming regular season Dalvin Cook will help the Jets to reach the Super Bowl win.
Make sure you bookmark NFL Exclusive for the latest NFL news, daily updates, and many more things!
Nick Bosa was fined for missing the first preseason game of the 2023 season