In 2023, Davis Mills, a third-year quarterback, finds himself in an intriguing position.
As of the third day of training camp, the Houston Texans have not yet revealed their starting quarterback. However, judging by the number of first-team reps, it appears that rookie C.J. Stroud may have an advantage.
Since OTA practices in May, Davis Mills has made it clear that he wants to keep his starting position. This is a significant change from 2022 when the Texans made him the starter after trading Deshaun Watson to the Cleveland Browns.
Mills hasn't backed down from the competition with Stroud and sees every practice as an opportunity to demonstrate why he should continue to be Houston's starter.
"Every single day, you're coming in and putting your best foot forward and being the best player you can be, making yourself better and making everybody in your room better," Mills said. "We have competitions at all 22 positions. Offense, defense, and even from now on to special teams."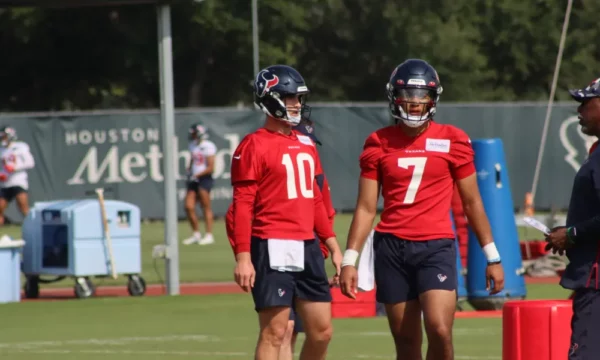 In 2023, Mills is experiencing changes beyond just the competition against Stroud. Coach DeMeco Ryans has decided not to keep Pep Hamilton as the Texans' offensive coordinator.
Bobby Slowik, the San Francisco 49ers' offensive passing game coordinator from last season, was hired by Ryans. This meant that Mills had to learn a new system for the third time in his young career.
In Davis Mills' first year as a professional player, he had Tim Kelly as the offensive coordinator for the Texans while David Culley was still their coach.
According to Mills, inconsistent training could stunt the growth of a young player. However, he stated that adapting to a new offensive system for a third year in a row has not been difficult.
Davis Mills finds working with Slowik exciting, as he believes that the Texans' new offense is less demanding for the quarterback.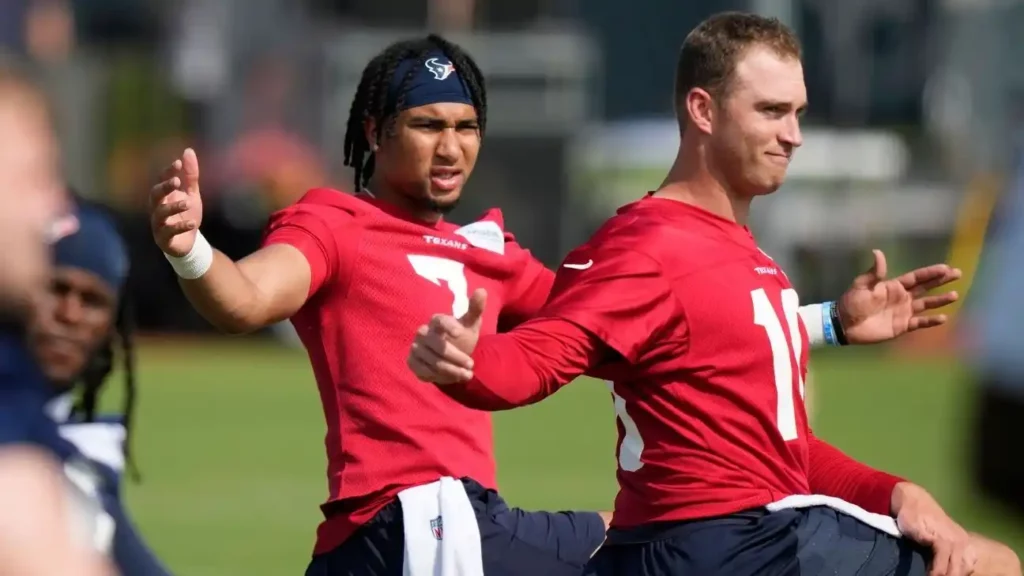 "For instance, my rookie year, I was responsible for coming up to the line, making every single Mike point, run, and pass game," Mills said. "Any adjustments, any audibles, and this year we're trying to kind of take as much of that mental space off the quarterback at the line so we can just go out there and play fast.
"Obviously, get us out of terrible situations, but really using that post-snap time to just react and play ball."
Mills stated that his main focus for this off-season was developing his skills. He holds a positive outlook for the future of the franchise and is confident that he will be the Texans' starting quarterback for Week 1.
According to Davis Mills, every week was a valuable opportunity for learning. He plans to apply the knowledge gained from last season and his personal growth to support the Texans in achieving their best performance since 2019, when they last made it to the postseason.
"Bringing the full team back together after the summer break, it's exciting to kind of get back and do what you love doing," Mills said. "We're back here to put in the work and try to build the best team we can move into the season."