The Philadelphia Eagles are set to face their arch-rivals, the Dallas Cowboys, this weekend in a game that could decide the fate of the NFC East division. The Eagles are leading the division with a 7-1 record, while the Cowboys are trailing behind with a 5-3 mark. A win for the Eagles would give them a commanding lead and a huge advantage in the playoff race.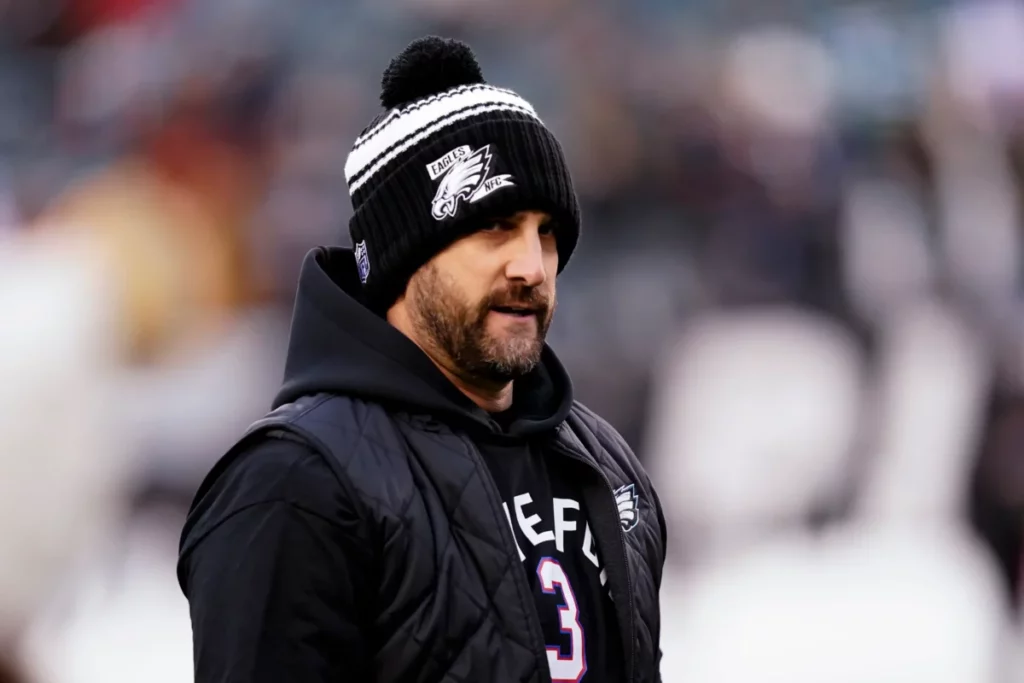 However, Eagles head coach Nick Sirianni is not letting the pressure get to him or his team. He told reporters this week that he wants his players to treat every game and every day the same, regardless of the opponent or the stakes. He said that he does not believe in getting more hyped up for one game than another and that his goal is to go 1-0 every week.
"We have to treat every day the same. You can't get more up for one game than you would the next game… There's a lot of football to be played after that," Sirianni said, via ProFootballTalk. "We can only play one game at a time.
So, I just don't think of it that way. And I'm not asking for anyone to understand that mindset, and I'm not asking anyone to understand our team's mindset there. But we have to completely go about our business every single day and just try to go 1-0 today so we can try to go 1-0 this week."
Sirianni's approach may seem too simple or too cautious for some fans, who are eagerly anticipating the showdown with the Cowboys. A win over Dallas would not only put the Eagles in a strong position in the division but also give them bragging rights over their long-time foes. The Eagles and the Cowboys have a fierce and historic rivalry, dating back to 1960. The two teams have met 125 times, with the Cowboys leading the series 70-54-1.
The Eagles have been impressive this season, winning seven of their eight games so far. Their only loss came against the New York Jets in Week 4 when they blew a 21-point lead in the fourth quarter and lost 28-27. The Eagles have bounced back from that setback, winning four straight games since then, including a 31-17 victory over the Arizona Cardinals last week.
The Cowboys, on the other hand, have been inconsistent this season, alternating between wins and losses in their eight games. They started the season with two wins over the Tampa Bay Buccaneers and the Los Angeles Chargers but then lost to the Carolina Panthers and the Denver Broncos. They recovered with two wins over the New York Giants and the Washington Football Team but then lost to the Minnesota Vikings last week.
The Cowboys will be hoping to end their losing streak and close the gap with the Eagles this weekend. They will also be looking to avenge their 41-21 loss to the Eagles in Week 3 when they were outplayed and outscored by their rivals.
The game between the Eagles and the Cowboys will kick off at 4:25 p.m. ET on Sunday at AT&T Stadium in Arlington, Texas. It will be broadcast by FOX.
Fans of both teams are eagerly awaiting the game and expressing their opinions on social media. Some are confident in their team's chances, while others are nervous or doubtful.
"Let's go Eagles! We got this! Fly Eagles Fly!" tweeted an Eagles fan.
"Cowboys Nation stand up! We're coming for you Eagles! #WeDemBoyz" tweeted a Cowboys fan.
"I hope Sirianni knows what he's doing. This is not just another game. This is THE game. We need to beat those Cowboys!" tweeted another Eagles fan.
"I'm scared of this game. The Eagles always play us tough. And they're on fire right now. We need to step up big time!" tweeted another Cowboys fan.
Who will come out on top in this crucial NFC East clash? Will Sirianni's simple mindset pay off or backfire? Will the Eagles continue their winning ways or will the Cowboys spoil their party? Tune in on Sunday to find out.