The 2023 NFL season is nearing its end and some teams are already looking ahead to the 2024 NFL Draft. The Minnesota Vikings are one of those teams, as they hope to improve their roster with some fresh talent. Here are four college football players who could be potential targets for the Vikings in the next draft.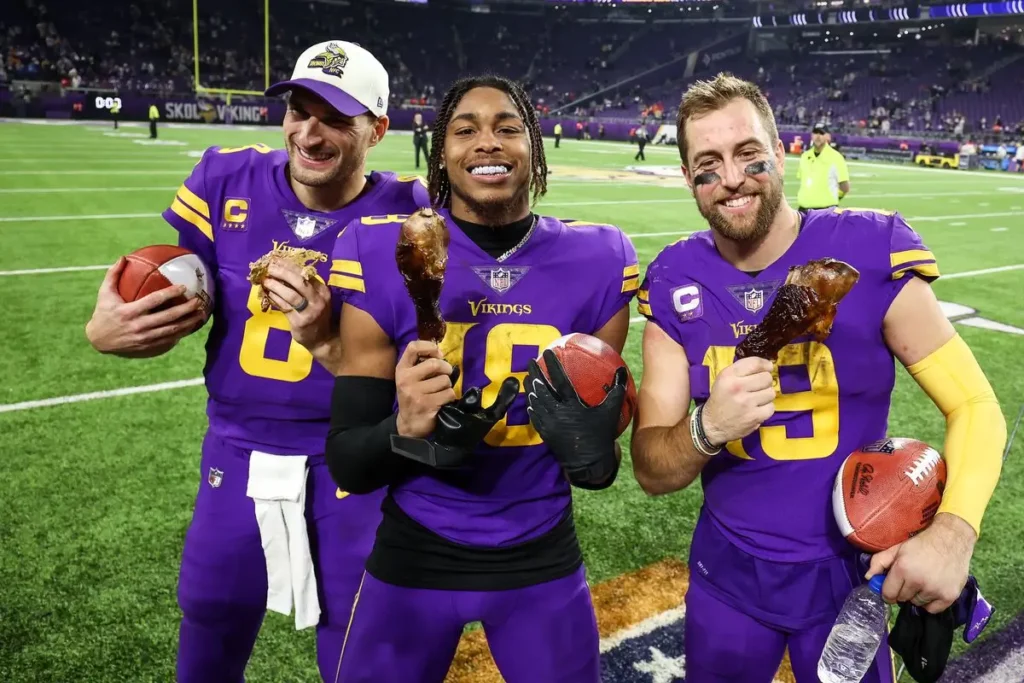 Jonathon Brooks, RB, Texas
The Vikings have struggled to run the ball this season, and they might need to add some depth behind Alexander Mattison, who is their only reliable option at running back. Jonathon Brooks could be a good fit for the Vikings, as he has been a productive and versatile player for the Texas Longhorns.
Brooks has rushed for 923 yards and seven touchdowns on 144 carries, and he has also caught 22 passes for 212 yards and another score. Brooks has the size, speed, and vision to be a successful NFL running back, and he could help the Vikings improve their ground game. Brooks will face a tough test this weekend against Kansas State, who has one of the best-run defenses in the Big 12.
Ty'Ron Hopper, LB, Missouri
The Vikings have gotten solid play from Jordan Hicks at linebacker, but he is set to become a free agent after this season. The Vikings might want to get younger and cheaper at the position, and Ty'Ron Hopper could be an option for them in the middle rounds of the draft.
Hopper has been a key player for the Missouri Tigers, who have improved their defense significantly over the past two years. Hopper has recorded 120 tackles, 18.5 tackles for loss, 4.5 sacks, seven passes defended, an interception, and a forced fumble in his career at Missouri.
Hopper is a versatile and athletic linebacker who can play in multiple schemes and coverages. He could be a valuable addition to the Viking's defense, especially if they can pull off an upset win over Georgia this weekend.
Brenden Rice, WR, USC
The Vikings have found a star in Jordan Addison, who has emerged as their top receiver in the absence of Justin Jefferson. However, the Vikings could still use another weapon in their passing game, and Brenden Rice could be an intriguing option for them.
Rice is the son of legendary receiver Jerry Rice, and he has shown some of his father's traits at USC. Rice has caught 30 passes for 519 yards and nine touchdowns this season, and he has been a reliable red zone target for the Trojans.
Rice has the size, speed, and hands to be a dangerous receiver in the NFL, and he could form a potent duo with Addison in Minnesota. Rice will have a chance to showcase his skills against Washington this weekend, as the Trojans try to keep their hopes of a Pac-12 title alive.
Mekhi Wingo, DT, LSU
The Vikings could use some more pass-rushing help in the middle of their defensive line, and they have a history of drafting players from LSU. Mekhi Wingo could be the next LSU defensive lineman to join the Vikings, as he has been a disruptive force for the Tigers this season.
Wingo has tallied 22 tackles, three tackles for loss, and 2.5 sacks in seven games, and he has shown the ability to play in different positions on the defensive line. Wingo is not very tall, but he has a quick first step and a powerful punch to beat blockers. He could provide some interior pressure for the Viking's defense, especially if they can upset Alabama this weekend.