Aaron Rodgers may miss the rest of the 2023 season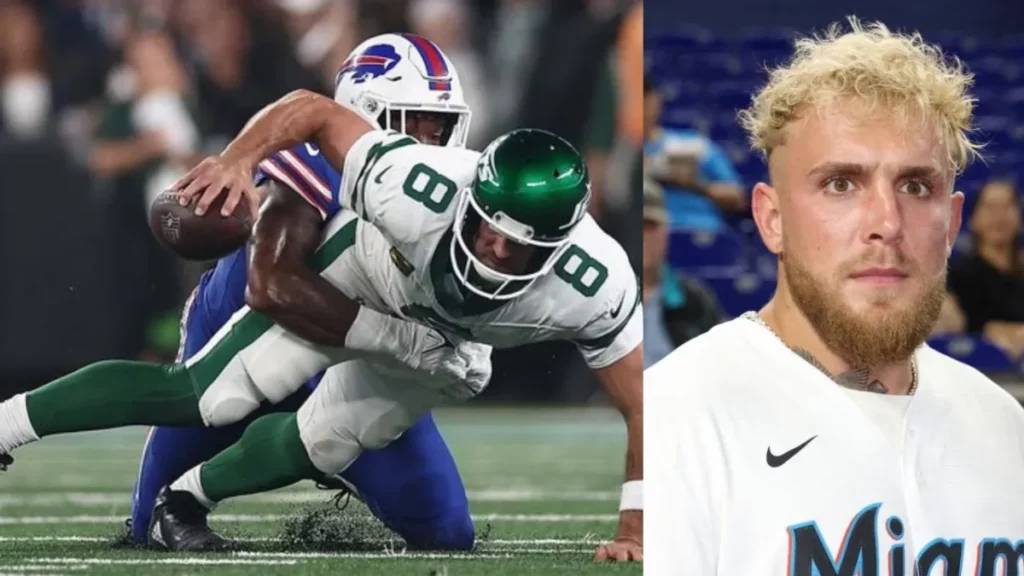 The Aaron Rodgers injury has shocked the world. The legendary quarterback was in everyone's eyes, everyone came just to see him as he was playing his first match for the Jets.
Fans saw him in a different Jersey after 18 seasons and the New York Jets had all hopes of a Super Bowl win.
But an injury dashed all the hopes of the fans. Fans were deeply saddened when he was carted off the field.
During the first quarter of the Jets season opener against the Bills, Aaron Rodgers suffered a serious injury. It is believed that his Achilles ruptured.
But the fans blamed someone else for Aaron Rodgers' injury and angrily called him a curse on Rodgers.
Famous YouTuber and boxer Jake Paul was also present among the thousands of spectators. He also met Aaron Rodgers before the match and shook hands with him.
"That dap up was a curse from the start," wrote one user on Twitter.
"I'm not a Jets fan, but I genuinely blame Jake Paul for Aaron's injury," added another.
Also, this is not the first time when Jake Paul has been called a curse.
Famous rapper Drake shows a lot of interest in Jake Paul and has placed many big bets on him but he has often been seen incurring losses. Drake has lost money in Jake Paul's fights in the past.
After the injury news of Aaron Rodgers, Jake Paul was compared to Drake.
"Forget about the Drake curse, the Jake Paul curse really is worse, it's just nobody talks about it," stated one Twitter user.
The New York Jets coach talked to the reporters after the game and said,
"Concerned with his Achilles." "MRI is probably going to confirm what we think is already gonna happen. So, prayers tonight. But, it's not good."
Also read: Irina Shayk's friends saying she is playing a love game with Brady & Cooper
It is not clear how many days the legendary quarterback will be out of the match or he will have to miss the rest of the 2023 season.
Hope, Aaron Rodgers will get well soon and will make a great comeback.