After the New York Jets' game against the Buffalo Bills, a violent and heated incident broke out close to the locker rooms, shocking both players and fans.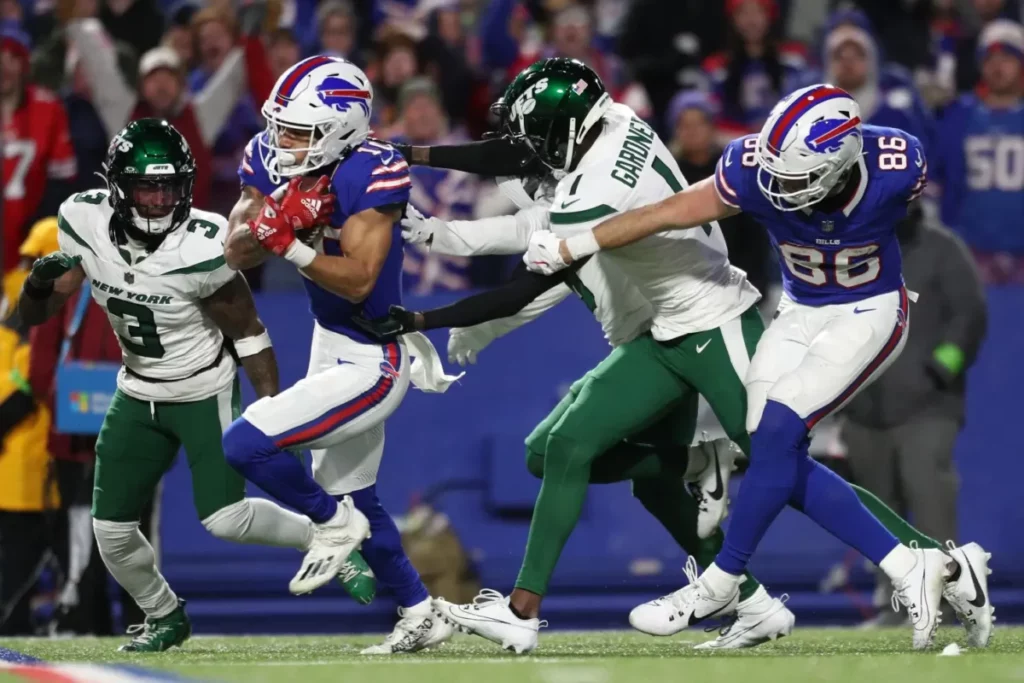 The dispute occurred after the game, during which both teams used the same passage to leave the field, adding an unexpected and heated chapter to the game's story.
With an upset 32-6 victory, the Bills were declared the winners, but the focus soon turned from their on-field achievements to the intense emotions that followed.
There was a clear tension even if there were no physical blows exchanged because of the players' evident dislike and verbal incidents.
Michael Clemons of the Jets and Dion Dawkins of the Bills were at the very center of the storm. The argument arises from an event that happened in the fourth quarter when Clemons, who appeared to be driven by anger, threw Dawkins hard to the ground.
This move not only increased the already intense competition between the two teams but also created the groundwork for the incident that happened after the game.
Visibly offended by what he saw as disrespect, Dawkins addressed the journalists with no holds held. He stated firmly, "I'm not a fan of the Jets," expressing how offended he was by what he saw as the players' disrespectful actions. An already tense environment gained even more intensity from Dawkins's honest statement.
Players Engaged in Heated Argument
Players from both teams got into a furious argument in the shared passageway following the game, which was the source of tension. Dawkins didn't hesitate to add fuel to the fire by releasing it to the audience, increasing the players' arguments even though he didn't appear hurt.
Famous people including Ed Oliver, Sauce Gardner, and C.J. Mosley got connected, resulting in a messy situation that needed to be resolved.
Brant Boyer, the special teams coordinator for the Jets, stepped in to calm the situation and keep it from getting worse.
Players had to maneuver through an area where tensions were already running high, which added a unique element to the post-game dynamics because both teams used the same tunnel.
D.J. Reed, the cornerback for the Jets, played down the incident, calling it "just guys arguing." But given the close quarters and the depth of emotions involved, he also understood that things may get more serious.
Reed highlighted the behind-the-scenes chaos that frequently surrounds professional football by believing that Clemons' seeming anger may have been triggered by a covert Dawkins move.
The current season is an unsettling reminder of the passion and intensity that may occur in the competitive world of football, even outside of the game itself. The off-field drama adds an unexpected story to the Jets-Bills game, which leaves many wondering about the consequences for future meetings between these two bitter rivals. Fans and commentators analyze the on-field performance.