Chicago Bears running back Khalil Herbert, who has been a key contributor to the team's offense this season, is expected to make his comeback in Week 10 after recovering from an ankle injury.
Herbert suffered the injury in Week 5 against the Washington Commanders, when he twisted his right leg while trying to catch a pass from quarterback Justin Fields. He left the game briefly and returned, but was later ruled out for the rest of the game.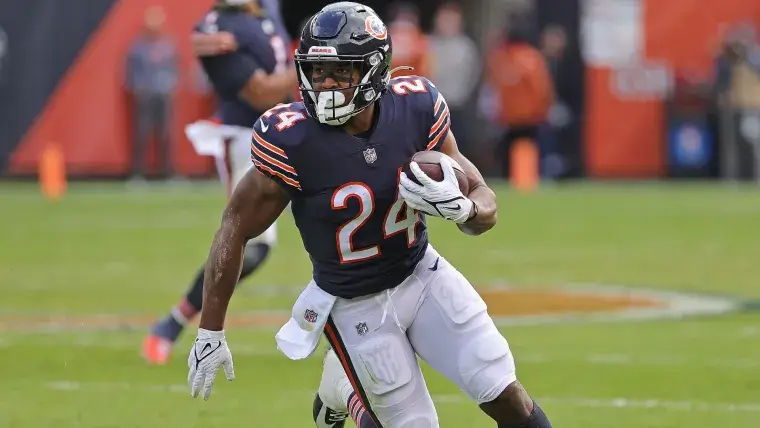 The Bears placed Herbert on the injured reserve list, which means he has to miss at least four games. He has already sat out three games and will miss the Week 9 game against the New York Jets. His earliest possible return date is Week 10 when the Bears face the Carolina Panthers.
Herbert, a sixth-round draft pick from Virginia Tech, has been impressive in his rookie season, leading the team in rushing yards with 272. He also has 83 receiving yards and one touchdown. He has averaged 4.9 yards per carry and has shown versatility and explosiveness in the backfield.
The Bears are looking forward to having Herbert back, especially with their other running backs dealing with injuries. David Montgomery, the team's starter, is also on the injured reserve list with a knee injury. Damien Williams, the veteran backup, has missed two games with a calf injury. The Bears have relied on Ryan Nall and Artavis Pierce to fill in the gaps, but they have not been as effective as Herbert.
Herbert's return will provide a boost to the Bears' offense, which has struggled to score points and move the ball. Fields, the rookie quarterback, has shown flashes of potential but has also faced pressure and turnovers. Herbert's presence will help balance the offense and take some pressure off Fields.
The Bears are currently 3-5 and third in the NFC North division. They have lost four of their last five games and are in danger of falling out of the playoff race. They will need Herbert and their other injured players to return soon and help them turn their season around.
Chicago Bears have to face lots of ups and downs this season as their main player Roschon Johnson also got injured during the match.