Baltimore Ravens cornerback Marlon Humphrey is set to undergo foot surgery on Wednesday due to an injury, as reported by Tom Pelissero, Mike Garafolo, and Ian Rapoport of NFL Network.
The report states that the 27-year-old cornerback is expected to return in just over a month and may only miss a few games.
Baltimore gained their first victory by winning the game 20-19 against Philadelphia Eagles in the preseason, but Humphrey, who has been a Pro Bowler three times in the past four seasons, did not present in the preseason.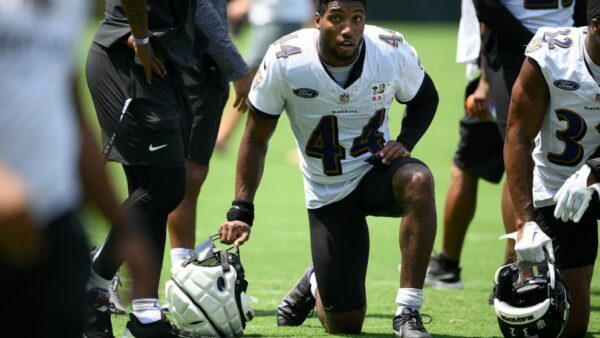 Reportedly, he missed training camp on Wednesday due to a slight limp. Despite this, he still attended a news conference after leaving practice on Tuesday.
Both days consisted of joint practices between the Washington Commanders and their upcoming preseason opponent in Maryland on Monday.
"To me, this is actually kind of almost better than preseason," Marlon Humphrey said Tuesday. "It's much harder to tackle without going to the ground, and you're covering elite guys every single play doing your one-on-ones. You're put in good and bad positions, so I think for a lot of guys — me, Roquan [Smith], Marcus [Williams] — we're kind of taking these days as they're our two preseason games. [We don't] know how much preseason action we'll see. But I think joint practices, it's some of the best you can really get."
The Baltimore Ravens drafted the former Crimson Tide star in the first round of the 2017 NFL Draft. He has been a vital part of the team's defense, recording 347 tackles, 281 of which were solo, 15 for loss, 13 forced fumbles, and 12 interceptions over six seasons and 90 career games. He started all 17 games for the Ravens last season.
Due to the surgery, Humphrey is expected to miss the Ravens' divisional game against the Cincinnati Bengals as well as their Week 1 match against the Houston Texans.
Including Marlon Humphrey, the team's other options at cornerback are also out of the team due to injury and the team's cornerback options are limited. Pepe Williams, a second-year cornerback, is undergoing a second ankle surgery that will delay his season start. Rock Ya-Sin is still ruled out with a knee injury.
Head coach John Harbaugh stated that Jalyn Armour-Davis, a second-year cornerback, is on the verge of returning after being absent from the preseason opener due to an undisclosed injury.
Hope, veteran cornerback Marlon Humphrey will recover soon to join the Ravens to push up the team. He is one of the core parts of the team. His presence filled the roster with another level of confidence.
Read more: Will Micah Parsons play the next game after suffering Tuesday's injury?
Make sure you bookmark NFL Exclusive for the latest NFL news, daily updates, and many more things!