It seems that the Minnesota Vikings are preparing to switch up their quarterbacks' room in the near future.
The Vikings may cut Jaren Hall, a BYU quarterback drafted in the fifth round as a developmental project.
Pioneer Press reporter Dane Mizutani predicts that Hall will likely be cut from the roster and end up on the practice squad for the 2023 season.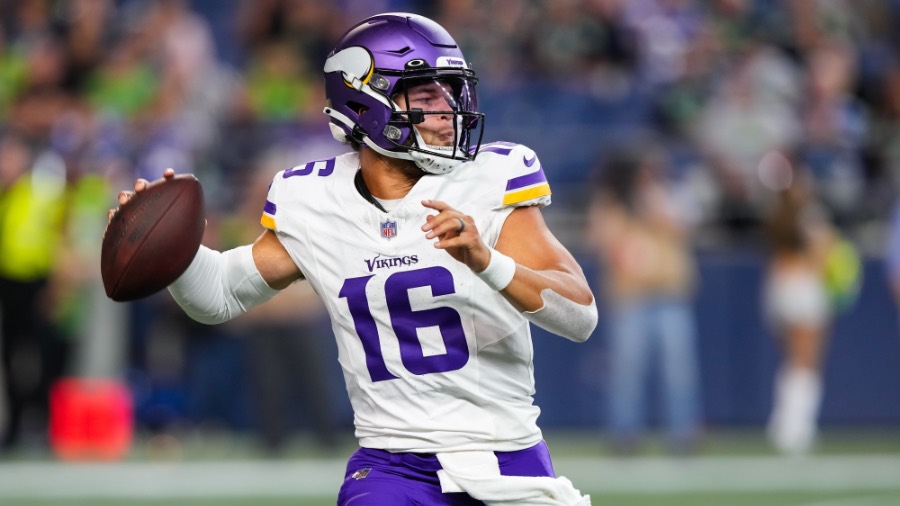 "He just looks so green. I feel almost bad for him because I don't think he's there yet. He has a little arm talent. But he's a guy, I think you could honestly cut and [stow] him onto your practice squad pretty easily," Mizutani said on August 19 on the "Purple Insider" podcast.
The Minnesota Vikings lost their second preseason game against the Tennessee Titans 24-16. Quarterback Hall completed 4 out of 7 passes for 49 yards, following a game against the Seahawks where he completed 6 out of 14 passes for 37 yards.
"He looked better than he did against Seattle but it isn't very hard to look better than he did against Seattle," Muzutani said. "It's very clear he played in an offense that wasn't anything close to pro-style offense in college there are things he just doesn't get yet, and that's fine. He's a fifth-round pick from BYU. He wasn't prepared for this moment. He's even said he has so much to learn."
During the first two games of the preseason, Hall completed 10 out of 22 pass attempts resulting in a completion rate of 47.6%. His passer rating was 58.8.
The Vikings added quarterback Jordan Ta'amu to their roster on Monday after he was named the XFL's Offensive Player of the Year. Ta'amu will provide the team with an extra arm for the final week of the preseason.
The Minnesota Vikings are in search of a new quarterback for the future as Kirk Cousins is 35 years old and has limited time left. However, he has thrown for over 4,000 yards and at least 29 touchdowns in the past three seasons.
Know more: Livvy Dunne boyfriend is Air Force trained, Paul Skenes facts
Make sure you bookmark NFL Exclusive for the latest NFL news, daily updates, and many more things!