The anticipation is high as Jordan Love and the Green Bay Packers kick off their preseason schedule tonight against the Cincinnati Bengals. A new era of football is beginning for this legendary franchise, and everyone is eager to see what the future holds. Although the days of Aaron Rodgers leading the Packers to Super Bowl contention are gone, the team is ready to prove that they are still a force to be reckoned with. Get ready for an exciting season ahead!
Packers QB Love, the young quarterback, has been under a lot of scrutiny from the media, despite having only one career start. While some analysts have criticized him as a statue, others see the potential he holds and has even dubbed him as the new Rodgers.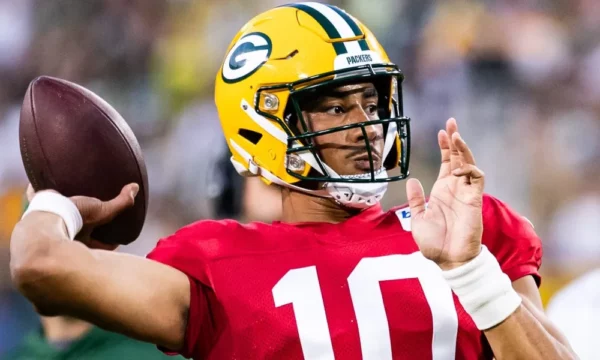 As Love prepares for his first season as the full-time starter in Green Bay, a bold prediction has been made by an NFL scout – he believes that Love will outperform Rodgers' efficiency with the New York Jets. It's an exciting prospect for Love and Packers fans alike, and only time will tell if this prediction comes to fruition.
"Look, the pressure is no doubt on Jordan Love, but the team has done an amazing job of shielding him from it. I'm going out on a limb here. Love will have a more efficient 2023 season than Aaron Rodgers."
Quarterback Love, the first-round pick in the 2020 NFL Draft, has only seen action in 10 games so far, with most of his appearances being very brief. While his stats may not be impressive, completing just over 60 percent of his passes for 606 yards, three touchdowns, and three interceptions, he did show some promise when he replaced Aaron Rodgers against the Philadelphia Eagles last season.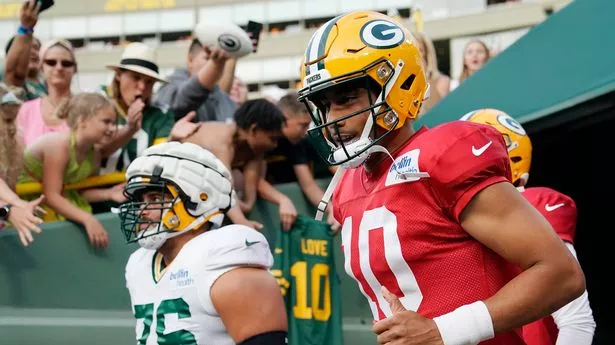 With Love set to take the reins as the starting quarterback, all eyes will be on him as he looks to prove his worth to the Packers. His teammates are firmly behind him, and it will be fascinating to see how he handles the pressure of leading the team. While it's unfair to judge him based on just a few games, we'll get a much better sense of his potential throughout the whole season.
One thing we can expect from Jordan Love is confidence. He's got the talent to succeed and the support of his team, so it's up to him to deliver on the field. Let's give him the chance to show us what he's capable of becoming for the Packers.
Read more: See Baker Mayfield's reaction when he was asked to replace Tom Brady
Make sure you bookmark NFL Exclusive for the latest NFL news, daily updates, and many more things!