Patrick Mahomes interrupts tight end Travis Kelce's speech at the White House
Last season's Super Bowl champion team Kansas City Chiefs visited the White House on Monday. During the ceremony, Chiefs' Star quarterback and the tight end appeared to have some fun on their second visit to 1600 Pennsylvania Avenue in the past three years.
On the stage, the duo posed for a photo with President Joe Biden with a Chiefs no 46, jersey. Travis Kelce is dressed in a red suit with a black shirt while Patrick Mahomes wore a ocean blue suit along with a white shirt.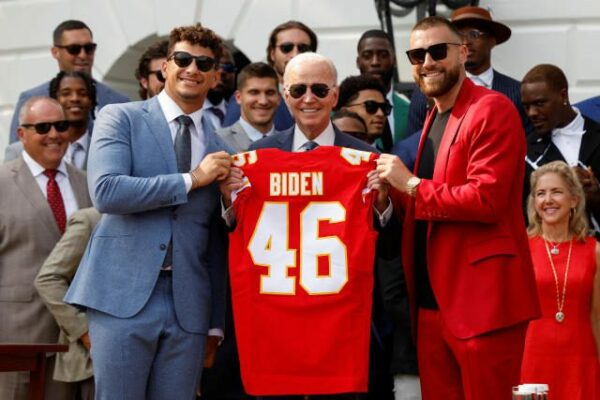 After the shoot, tight end Travis Kelce wanted to get on the mic at the White House, So he walked over to the podium with the presidential seal and began addressing the crowd.
"So I've been waiting for this…." Kelce said before Mahomes stepped in to cut him off.
Star Quarterback Patrick Mahomes, completely looked like a pure secret agent pushing Kelce back with the rest of the team.
Patrick Mahomes playfully pushed TravisKelce away from the Podium at the White House.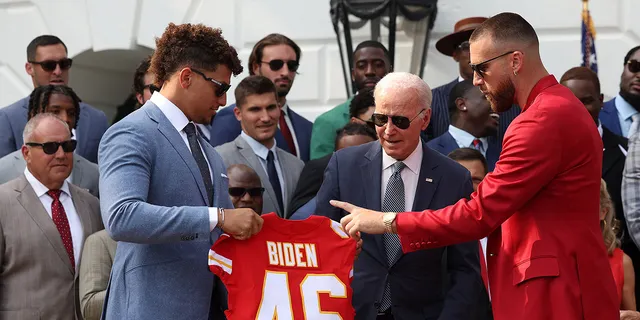 "I'm sorry. I'm sorry," Mahomes said on the mic after pushing back Travis towards the team.
It's unclear why Mahomes do that to Travis or maybe it's their plan or if Kelce was going to throw his hat into the 2024 race, whatever but it creates a funny moment at the white house.
However, the Chiefs went to the White House by defeating the Eagles in the 2023 Super Bowl Championship.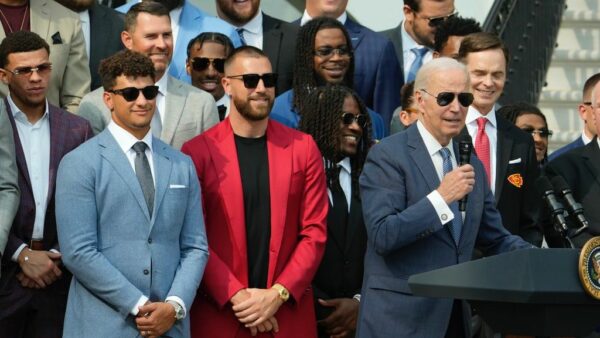 Although, Mr. President praised the team by saying, "the real joy of the game and love for each other and the great city you represent," as well as applauded their off-field efforts in the community, saying "As these guys know about football, they know about life and how to use their platform to make a difference. "
Mahomes and Kelce have been the best dynamic players during their time with the Chief.
However, All the best to the Chiefs for the next time. Hope they will make a few more trips to the White House.
Read also: See what Patrick Mahomes said about former QB Tom Brady