Ryan Kelly and his wife Emma celebrated their first Halloween as parents of twin boys with a magical theme.
The couple, who welcomed their sons Duke Thomas and Ford Patrick in July, dressed them up as Harry Potter characters for their first trick-or-treating. Duke wore a Gryffindor scarf and glasses, while Ford sported a lightning bolt scar and a wand. The twins also had matching onesies that read "The Boy(s) Who Lived."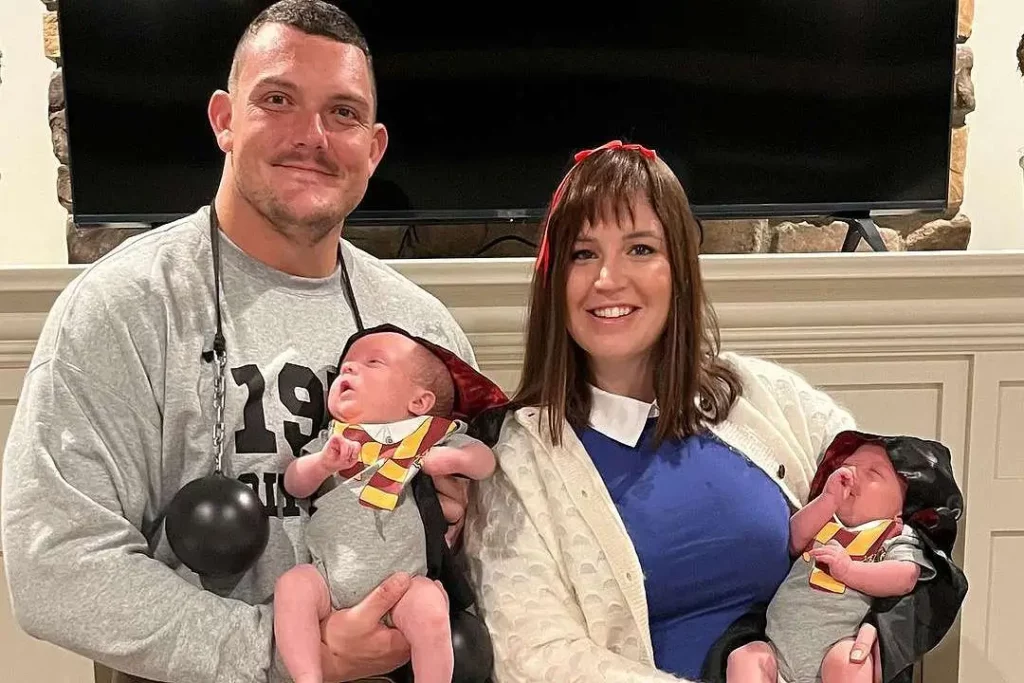 Emma shared some adorable photos of their family on Instagram, where she also revealed that the twins were born prematurely at 27 weeks and spent 85 days in the neonatal intensive care unit (NICU).
"Happy Halloween from these micro-preemie 27-weekers who are 4 months old this week… we can't believe it either," she wrote.
Emma also dressed up as Matilda, the beloved character from Roald Dahl's book, while Ryan, who plays as a center for the Indianapolis Colts, transformed into Ms. Trunchbull, the villainous headmistress from the same story.
The couple told PEOPLE exclusively earlier this month that they were overjoyed to finally bring their twins home after a long and difficult journey that included fertility issues, in vitro fertilization (IVF), and the loss of their daughter Mary Kate in 2022.
"After 85 days in the NICU and living in a rental home, we are finally reunited as a family," Emma said. "I still can't totally believe we are finally home as a family of four, but every time we see one of the boys, we are thankful for the journey that got them here."
Emma also expressed her gratitude for being able to carry and deliver her "miracle" babies, despite the risks and challenges she faced during her pregnancy.
At a glance: The Indianapolis Colts' Initial 53-Man Roster – Surprises and Takeaways
"My gratitude, I can't even tell you," she said. "There was a time when I really wasn't sure if we were going to get here. I am literally so grateful for each day."
The proud parents said they were looking forward to watching their sons grow and develop their own personalities.
"They are both so sweet and cuddly," Emma said. "Duke is more laid back and chill, while Ford is more vocal and expressive. They are both very strong and determined, which is amazing to see."
Ryan and Emma's fans and friends congratulated them on their Halloween costumes and their twins' milestones.
"OMG, they are so cute!!! Happy Halloween!!!" one commenter wrote.
"Wow, what a journey! You guys are amazing parents and your boys are adorable! Love the costumes!" another said.