Running back Saquon Barkley signed a new deal with the Giants.
Previously the New York Giants star running Saquon Barkley back was not ready to accept the Franchise tag. He made a plan to sit out the whole 2023 NFL season, but recently a source revealed that the team NY Giants, and the running back Saquon Barkley agreed on a new deal ahead of the start of training camp.
According to NFL Insider Ian Rapoport, the Giants signed running back Barkley on a one-year, $11 million contract on Monday. The contract gives him $2 million as a signing bonus.
This development leaves #Raiders RB Josh Jacobs as the only franchise tagged player currently not in training camp. Our story from yesterday on Jacobs, via @TomPelissero: https://t.co/8cO1BmwlmX https://t.co/grHYJmYGpT

— Ian Rapoport (@RapSheet) July 25, 2023
The next morning, the New York Giants officially announced that Barkley signed the tender.
The team has placed the franchise tag of $10.091 million on Barkley for running backs in the 2023 season.
Previously, It was reported that running back Barkley wants a deal similar to Christian McCaffrey's $16 million contract. Currently, McCaffery's deal is the highest running back contract in the NFL.
Saints' Alvin Kamara is the second-highest-paid running back for a year at $15 million. Derrick Henry comes in at number three with $12.5 million.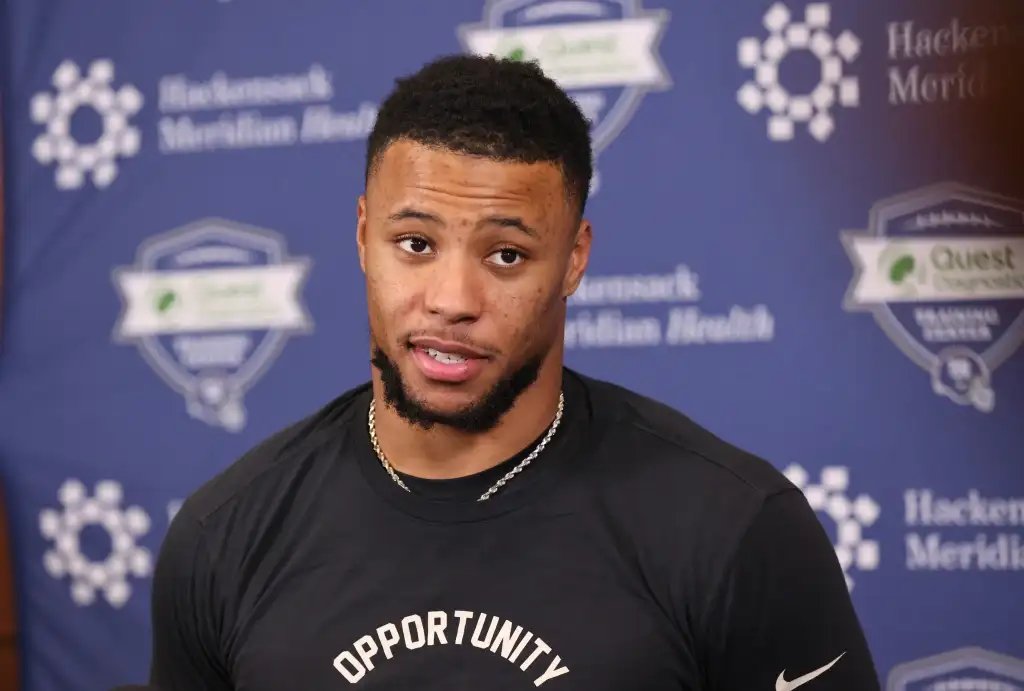 Saquon Barkley's recent $11 million contract does not come under the top five, but it is a pretty good deal for Barkley this season.
However, In Giant's history, Barkley is one of five players with 4,000+ rushing yards and 100+ reception with Tiki Barber, Rodney Hampton, Webster, and Ahmad Bradshaw.
He has rushed for at least 100 yards in 16 games, the fourth-highest total in franchise history.
Last season, Barkley finished the 2022 season with 295 carries for 1,312 rushing yards and ten rushing touchdowns to go along with 57 receptions for 338 receiving yards.
However, NFL fans have reacted to the running back Saquon Barkley's news.
He should have done what Jimmy Garoppolo did and negotiated where he can't be franchise tagged again.

— Shady (@ShadyMikeGaming) July 25, 2023
He waited all this time just to get a little more money???😳😳

— Kevin L Smith (@daitev) July 25, 2023
The irony is that they will probably ask for an entire u-haul truck worth of assets for a guy they won't pay because of his position…

— TSO_pickensrevenge😈 (@pickensrevenge) July 25, 2023
Read more: Will rookie Quarterback CJ Stroud start the Week 1 game?