The passing game of the Steelers is suffering this Sunday against the Rams, which is bad news for supporters of the squad. Pat Freiermuth, their tight end, had a setback from a hamstring ailment.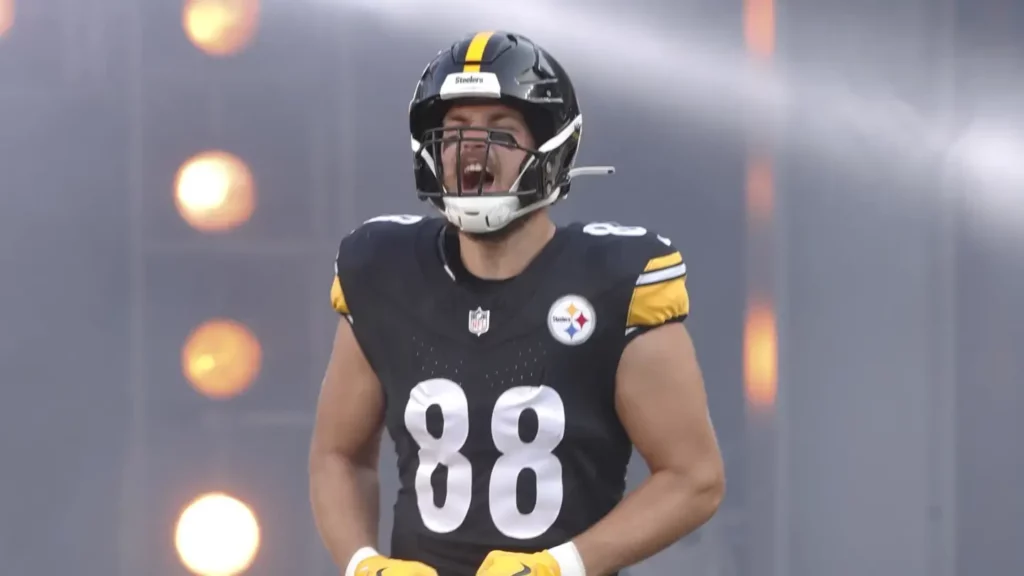 The Steelers quickly made a decision after Freiermuth struggled with his hamstring during training on Thursday. They placed him on injured reserve less than two days later. As a result, Freiermuth is not going to be available for at least the next four games.
Yet, all is not lost for the Steelers. They are also receiving some positive news. Diontae Johnson, a wide receiver, is back in play after missing Week 1 due to injury. Johnson is eager to demonstrate that he is fully recovered.
"I am very excited. It's been a long process, fighting to get back," Johnson said. "I am looking forward to showing them I am ready for Sunday."
Diontae Johnson has become used to playing in the league. He has made an astounding 343 catches, collected 3,694 yards, and scored 20 touchdowns since his 2019 debut. This Sunday in Los Angeles, the Steelers are hopeful he can help them raise their record to 4-2.
Also Check: Steelers Show Keen Interest in Trading for Colts Jonathan Taylor
The Steelers will surely suffer from the loss of Pat Freiermuth. His contribution to their offense has been important, particularly in the passing game. Up until this most recent setback, the staff was confident regarding his recovery from a hamstring ailment.
Sports professionals are aware that hamstring injuries are a prevalent problem, particularly for athletes like football players who must do short sprints and sudden changes in direction. These wounds can be aggravating since they frequently require time to fully recover. To prevent further issues, it is necessary to provide the injured muscle enough time to heal.
The Steelers will have to get by without Freiermuth for the time being despite the fact that he had a lot of potential when he played. The team's offensive strategies will be negatively impacted by his absence, therefore they will need to turn to their other offensive assets, including Diontae Johnson, to step up and fill the vacuum.
They should have some hope now that Johnson is back. Since his entry into the league, he has consistently provided Steelers quarterbacks with dependable targets, and his numbers bear this out. He might provide the drive that the Steelers need to defeat the Rams with his knowledge and abilities.
Every game matters for the Steelers because the AFC North is a very competitive division. They face a difficult battle now that Freiermuth is gone, but anything can happen on any given Sunday in the NFL, which is full of surprises.
In order to make an announcement against the Rams, the Steelers will go to Los Angeles with Johnson back in the starting lineup. Fans will be eagerly watching to see how the club adjusts to Freiermuth's absence and how Johnson performs upon his return. The only constant in the NFL is that each game is unpredictable, which is what keeps fans around the world captivated.