Tom Brady posted a cute image with daughter Vivian
Tom Brady a legendary NFL quarterback of all time is now spending a lot of time with his kids after his retirement. A seven-time super bowl winner who played for 23 seasons in the NFL retired this year in Feb. 
The legendary quarterback also went through many ups and downs in his personal life, getting divorced from his long-time wife and Brazilian supermodel Gisele Bundchen. He shared two children with Gisele, daughter Vivian and son Benjamin. Gisele and Brady finalized their divorce last year and have been co-parenting the kids.
Recently, Brady shared a picture of himself with his daughter Vivian on Instagram making silly faces. Daughter Vivian is a spitting image of her mother Gisele Bundchen. The photo went viral and a lot of fans reacted to it.
Tom Brady, 45, also shared a message with the lovely and cute photo he shared.
"I know you will probably kill me one day for this," Brady wrote. "But you are adorable girlie girl", he captioned.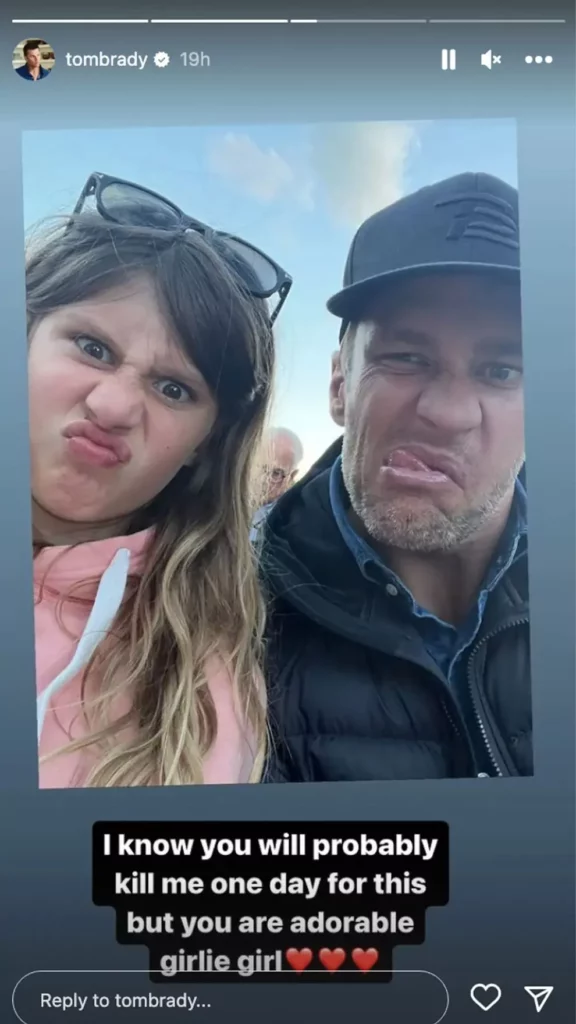 He included heart emoji in the caption. The photo was taken during their trip to the New York Philharmonic concert.
Tom's photo with daughter Vivian says that she exactly looks like her mother. Many people say that her facial features show that she is identical to Gisele.
"Their daughter is a mini-Gisele," one fan said.
"Gisele has some strong genes," another fan replied.
Read More: Buccaneers signed Rodrigo Blankenship as their new kicker
After Brady's retirement, he has been spending time with his kids and exploring many things. The father-daughter duo was recently seen with the world's no. 1 YouTuber Mr. Beast in a $300 million yacht. Son Benjamin was also with them. Brady regularly used to take photos and share them with fans.
Recently, Brady shared images of him with kids riding a tower of terror in Disney World. He captioned it with beautiful lines," The happiest place on earth (until you realize your kids were lying about tower of terror being "mad chill") 😂".
Tom Brady also shares a son Jack, 15 with ex-Bridget Moynahan.