Travis Kelce had a 'friendship bracelet' with his phone number on it for Taylor Swift.
The mega pop star Taylor Swift has been on The Eras Tour for months, and the Chiefs' Travis Kelce isn't the first NFL star to attend one of her shows.
New York Jets star quarterback Aaron Rogers was also seen among the "Swifties" at a show.
Recently, Kansas City Chiefs Travis Kelce also attended The Eras Tour following this week.
Anyone know how to get a bracelet to @taylorswift13? … asking for a friend 😅 @BWWings

New episode premieres NOW!

Tap in: https://t.co/lmQ8fLH1IO pic.twitter.com/4yYr8HSb0m

— New Heights (@newheightshow) July 26, 2023
But the Super Bowl winner Travis Kelce admitted he took it "personally" when pop star Taylor Swift declined to meet him before and after the show he attended.
In an appearance on a podcast, Travis Kelce shared this week that he tried and failed to meet Taylor Swift at one of her stops on her Eras Tour. The pop star keeps a tight lock on the tour's backstage area and made no exception for Kelce.
"I was disappointed that she doesn't talk before or after her shows because she has to save her voice for the 44 songs that she sings," Kelce said on his podcast New Heights with Jason and Travis Kelce, co-hosted by his brother Jason.
Kelce admitted to being "a little butthurt" that he wasn't able to execute his plan to deliver a personalized bracelet to Swift. "I didn't get to hand her one of the bracelets I made for her."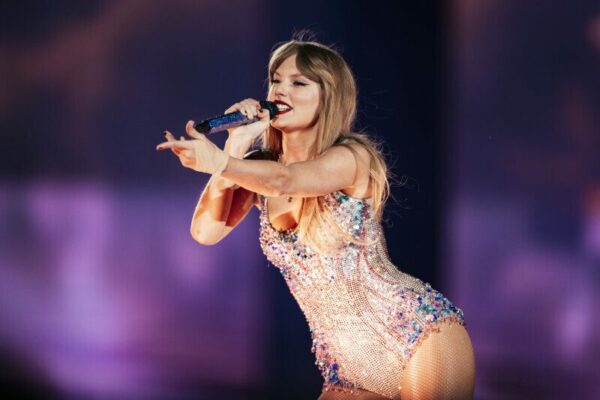 The NFL star explained, "If you're up on Taylor Swift concerts, there are friendship bracelets, and I received a bunch of them being there, but I wanted to give Taylor Swift one with my number on it."
Jason asked if Travis had the number on the bracelet or his phone number.
"You know which one," Travis Kelce said, grinning. "She doesn't meet anyone, or she just doesn't want to meet me. Kelce closed the topic by playfully telling listeners he "took it personal." 
Growing up in Pennsylvania, Taylor Swift was a big Philadelphia Eagles fan and has displayed her love for the team on multiple occasions, including on her tour and in song lyrics. 
Quarterback Aaron Rodgers agreed on a new deal with the Jets