Tyreek Hill set another shocking record for himself
Tyreek Hill is considered to be one of the top wide receivers in the NFL world. He is the one who is known to be a record breaker. Each season, fans expect a lot from him and he has proven it. Tyreek Hill is currently playing as a wide receiver for Miami Dolphins in the National Football League.
He was drafted in the fifth round of the 2016 NFL draft by the Kansas City Chiefs. Till now he has played 7 NFL seasons and in each of the NFL seasons, he has been selected for the NFL super bowl. This shows his ability and proficiency both as a wide receiver and returner. 
Tyreek joined Miami Dolphins last season, he made a statement of breaking records. The receiver caught 119 passes for 1,710 yards and broke the Dolphins' single-season receiving yard records in his first season. His 119 catches were a team record, and his 1,710 yards broke Mark Clayton's 38-year-old team record.
But he wants more and this year he made a statement again. Hill says he has his eyes set on the 2023 season and is ready to break another NFL record this year.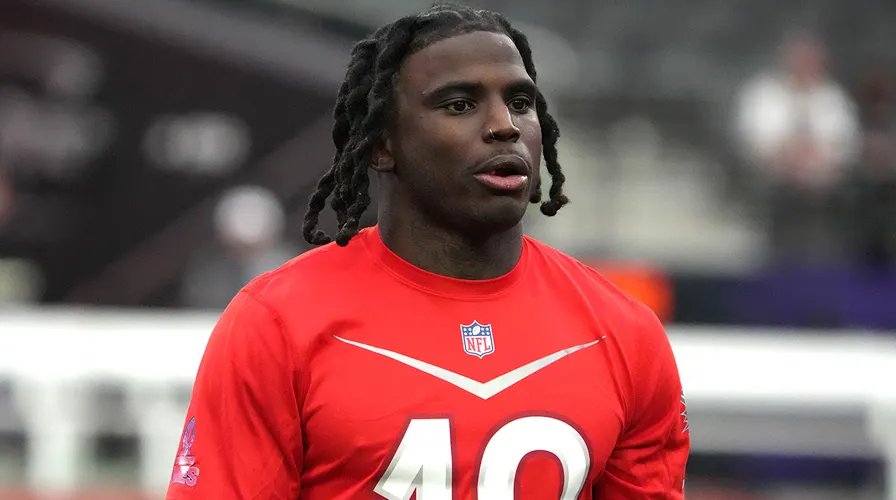 Hill said his goal is to complete 2000 yards this season. If he is successful in completing it, it will be a world record. This would make him the first receiver in NFL league history to do so. 
Hall of Famer Calvin Johnson has the current record of 1964 yards which he made during the 2012 NFL season.
"Oh yeah, for sure [it's a realistic goal]," Hill said, via Adam Beasley of profootballnetwork.com.
#Dolphins WR Tyreek Hill says he wants to break the record and become the 1st receiver in NFL history to have over 2,000 yards 💥

"I've got the right tools around me. I got obviously the most accurate QB in the NFL."

pic.twitter.com/2906a6KWKm

— The Athletes Plug (@TheAthletesPlug) June 8, 2023
"I think the added [17th] game gives me quite the advantage, so yeah." he further said.
Johnson only played 16 games in his record-setting season in 2012 but Tyreek has a chance to play in 17 games as per the NFL's newer schedule. Tyreek Hill would need to average at least 117.6 in his 17 games to reach 2,000 yards. His average of 100.6 per game in 2022 last season was his career best. 
"For me, not getting injured [is the key], coming in each and every day wanting to get better, wanting to be coached," Hill said, "and I feel like I've got the right tools around me. I've got obviously the most accurate quarterback in the NFL. I've got one of the best head coaches in the NFL, and also my position coach is a monster. So, just having those three things and me just keeping the same mindset each and every day that I want to get better and I want to break the record, and I do want to break the record. So, I feel like this is one of those years that I can achieve it."
Read more: Fans gave a shocking reply to Tom Brady's warning message
The health of Tua Tagovailoa will play a crucial role in Tyreek Hill's chances of reaching 2,000 yards. Hill had one of his least productive games when Tagovailoa was sidelined. Tua missed four games in 2022 with concussions. 
"I'm really hoping that Tua wants to go back to Hawaii because that way, I can sneak a vacation in with the family and also get some work in," Hill said.
Whatever the circumstances, Tyreek Hills is not to be underestimated. Hope, Hills will be able to complete his target.