On Thursday night, there were two frightening incidents that took place at Lincoln Financial Field.
During a preseason game against the Browns, Eagles wide receiver Tyrie Cleveland and defensive tackle Moro Ojomo were both carted off the field after suffering separate neck injuries, which ended in an 18-18 tie.
In the third quarter, Tyrie Cleveland went up to catch a pass from quarterback Tanner McKee along the sideline, but he landed awkwardly on his neck and remained on the ground.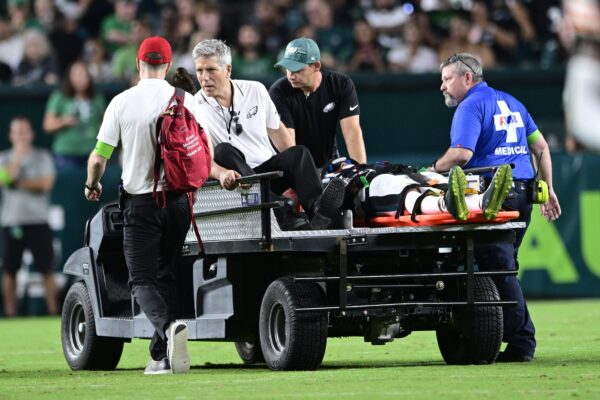 He stayed down on the field for several minutes while he was attended to by the Eagles' medical staff.
Eventually, Cleveland had to be placed on a stretcher and taken off the field by cart.
During the game, teammate Tristin McCollum accidentally hit Ojomo in the neck while attempting to tackle Browns quarterback Kellen Mond.
After being taken off the field, he showed a thumbs-up gesture to the crowd.
The Eagles announced that both players have movement in all of their extremities, but they did not provide any further updates on their statuses.
"I haven't talked to the doctors yet but it sounds like they're moving around," coach Nick Sirianni said. "I don't know anything else besides that."
During Thursday's preseason game, Cleveland only managed to make one catch for four yards before sustaining an injury.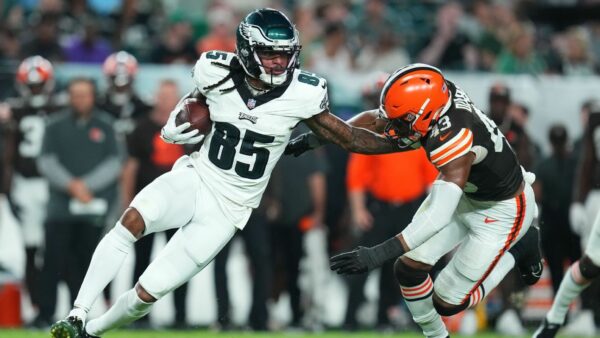 The Eagles' receiver turned heads in camp and had a strong performance last week against the Ravens, making five catches for 68 yards.
Tyrie Cleveland was drafted in the seventh round out of the University of Florida by the Broncos in the 2020 NFL Draft, playing in 23 games with Denver over three seasons before signing with the Eagles practice squad in January.
In three NFL seasons, Cleveland has only caught eight passes for a total of 91 yards. This is a sharp drop from his college career, where he recorded 91 receptions (eight touchdowns) for 1,271 yards while playing in the SEC.
Ojomo was drafted by the Eagles in the seventh round in 2021. He played college football at Texas, where he made 95 tackles and 13.5 sacks.
However, Next Thursday, the Eagles will host the Colts for their last preseason game.
Read more: Will Micah Parsons be out for the 2023 season after the practice session fight?
Make sure you bookmark NFL Exclusive for the latest NFL news, daily updates, and many more things!