Zach Wilson may not have won the thrilling Sunday night match at MetLife Stadium, but he secured his place in NFL history by doing something that no other quarterback has ever done against the fearsome Patrick Mahomes.
Zach Wilson is the first quarterback to have fewer interceptions while collecting more completions, passing yards, and touchdown passes in a game against Patrick Mahomes, according to OptaSTATS data that was published via Bleacher Report. This amazing accomplishment extends beyond the NFL and includes his collegiate career as well.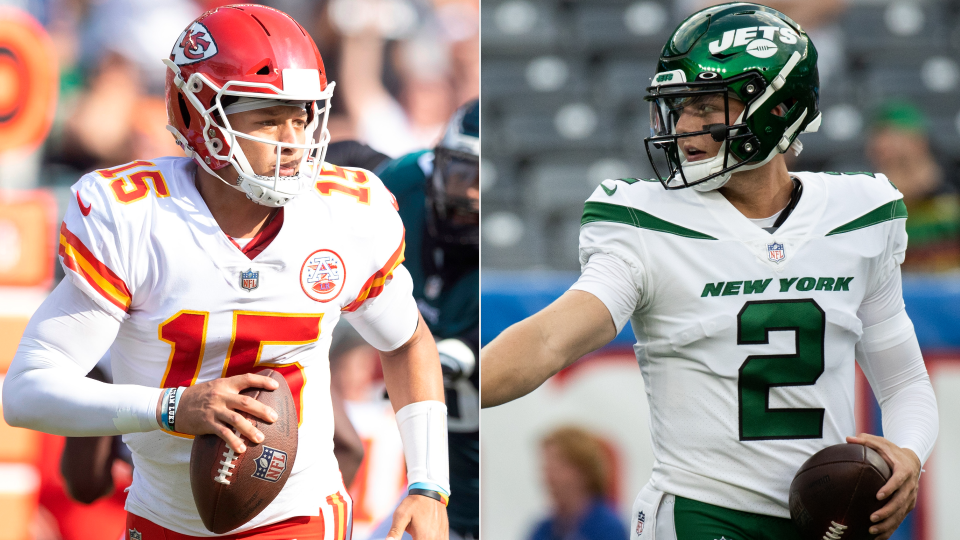 After hearing about this historic accomplishment, fans all throughout the country were unable to contain their joy. It is reasonable to assume that Zach Wilson's performance created a lot of excitement because Twitter was buzzing with people's reactions.
Jets Fans Overjoyed
ZenSports tweeted,
"Zach Wilson really brought it last night." "Let's hope he can keep playing at this level and pick up some victories!"
Fans of the Jets were delighted and had no choice but to talk about it.
One passionate Jets supporter yelled,
"Zach Wilson had enough of everyone's nonsense."
Zach Wilson had enough of everyone's shit 😤 https://t.co/laJ6hYtSOf

— SaucedArod (@SaucedArod) October 2, 2023
The game of comparisons was also in full swing, with one fan equating Mark Sanchez's performance to his legendary postseason matchups with Brady and Manning.
Another Twitter user compared the rookie quarterback to Sanchez playing Brady or Manning in the playoffs by praising his composure under pressure.
Wilson's impressive performance energized the crowd, and one admirer encouraged him to
"Keep it up, young guy. Your confidence should grow as a result of these achievements."
Jets supporters, who are renowned for their steadfast devotion, were eager to express their support for the team.
A Proud Jets Fan Comment
One commenter in the comments section boasted,
"WE JETS FANS WILL TAKE ANY SMALL VICTORY WE CAN GET."
Wilson's night may have gone mainly without a hitch, but there was one sad blip, an important missed snap. This tiny setback, though, did little to detract from his otherwise outstanding performance.
Zach Wilson seems eager to build on the momentum he created in this game in the future. Fans are anxiously waiting how he will build on this amazing success in the upcoming weeks.
In the future, Sunday night's game proved to be your typical NFL matchup. A young quarterback went up against one of the league's biggest stars and made history in that instant. Fans surely want to see more of Zach Wilson's amazing on-field accomplishments after seeing him perform, which is a testament to his potential.
One thing is clear as the season goes on: Zach Wilson's image will remain in the discussion, not just as a budding star but as a history-maker in the NFL quarterback world.