Frankfurt, Germany – Miami Dolphins quarterback Tua Tagovailoa, who is widely known by his nickname "Tua", surprised many fans and reporters when he revealed his full first name at a press conference on Wednesday.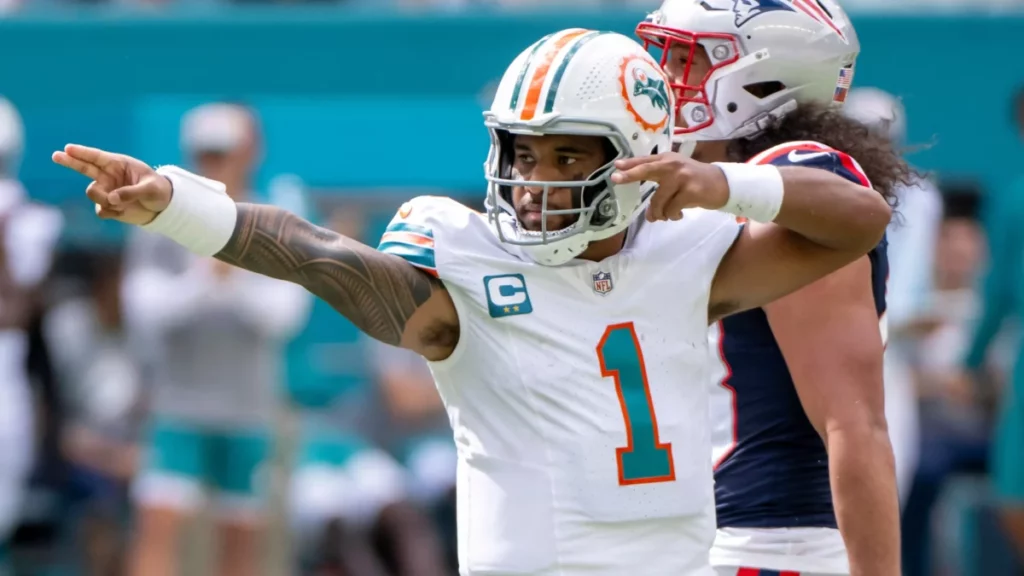 Tagovailoa, who was born in Hawaii, was asked by a German reporter how to pronounce his full first name, which is rarely seen or heard in public. The 24-year-old smiled and asked "Does anybody know how to say it?" before revealing that his full first name is Tuanigamanuolepola.
"Mike White knows how to say it … Tuanigamanuolepola," Tagovailoa said. "And then Tagovailoa."
The revelation sparked a lot of reactions on social media, where fans expressed their admiration, curiosity, and amusement at the quarterback's long and unique name.
Tua, how do you say your whole name? pic.twitter.com/i35HiNcMCv

— Joe Schad (@schadjoe) November 1, 2023
"I hope they inscribe his entire legal name on his MVP trophy," one Twitter user wrote.
"I still can't [say] it even after hearing him say it," another admitted.
"Great to see him so happy & healthy," a fan commented. "#thatsmyqb."
"The kind of name I'll say confidently in private, but claim I can't say it in front of people," another Fins fan joked.
Tagovailoa, who is of Samoan descent, explained that his first name has a special meaning in his culture.
"It means 'to stand with the people'," he said. "It's something that my parents gave me and I'm very proud of it."
Tagovailoa also said that he does not mind being called by his nickname, which is easier for most people to say and remember.
"I think it's just preference," he said. "I don't care what people call me, as long as they're respectful."
Tagovailoa, who was drafted by the Dolphins in 2022 as the fifth overall pick, has been having a stellar season so far, leading his team to a 6-2 record and a second place in the AFC East division. He has thrown for 2,134 yards, 18 touchdowns, and only four interceptions, with a passer rating of 105.7.
He will face his biggest challenge yet on Sunday when he will go head-to-head with Kansas City Chiefs superstar Patrick Mahomes, who is widely regarded as the best quarterback in the league.
At a glance: Dolphins Make Roster Moves for Home Opener against Broncos
Tagovailoa said he is looking forward to the matchup and hopes to prove himself as one of the elite quarterbacks in the NFL.
"I'm very excited to play against him," he said. "He's a great player and a great person. I have a lot of respect for him and what he's done for the game. But I'm also confident in myself and my team. We're ready to compete and show what we can do."