Terrence Michael Pegula, also known as Terry Pegula, is an American billionaire businessman and petroleum engineer. He owns Pegula Sports and Entertainment, which manages the Buffalo Sabres of the National Hockey League (NHL) and the Buffalo Bills of the National Football League (NFL). Terry Pegula got married to the love of his life Kim Pegula. The lovely married couple has been together for almost 30 years. However, Terry Pegula second wife name is Kim Pegula.
Who is Kim Pegula? | Terry Pegula second wife
Kim Pegula is an American businesswoman and sports executive. She is the current president and CEO of Pegula Sports and Entertainment, a sports and entertainment company based in Buffalo that owns several professional sports teams and properties.
Kim Pegula co-owns the Buffalo Bills (NFL), Buffalo Sabres (NHL), and Buffalo Bandits (NLL) with her husband, Terry Pegula. Before entering the sports industry, she worked in real estate development. Kim Pegula is recognized for her philanthropic work and commitment to her community.
How Kim Pegula becomes popular?
Kim Pegula is the wife of billionaire businessman Terry Pegula. Along with her husband Kim owns several sports teams. She is the President and CEO of the Buffalo Sabres, a professional hockey team.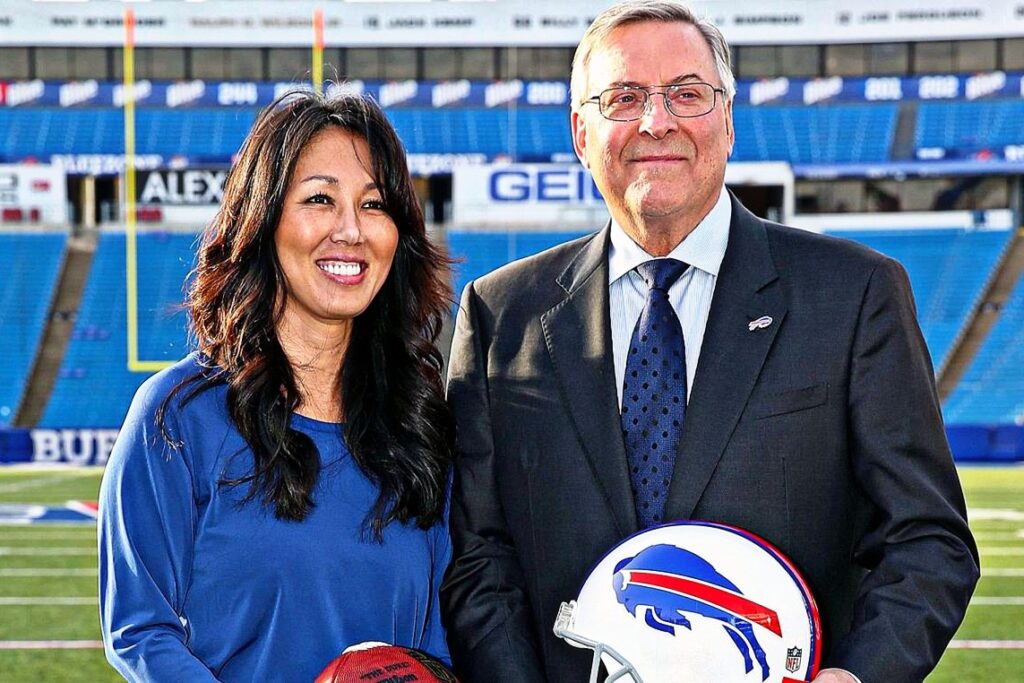 In addition to becoming a successful businesswoman, Kim Pegula also contributes to society at large. Her hard work and charity have helped to improve society. Kim is interested in environmental awareness in addition to athletics because she is on the board of directors for Republic Services, a big recycling and waste management business.
Kim Pegula's Early Life and Parents
Kim Pegula was born in Seoul, South Korea. She reportedly has no memory of her birth name, no record of her biological parents, and no memory of her life in South Korea. All that is known about Kim is her date of birth and a DNA test that indicated that one of her parents was probably of Japanese origin.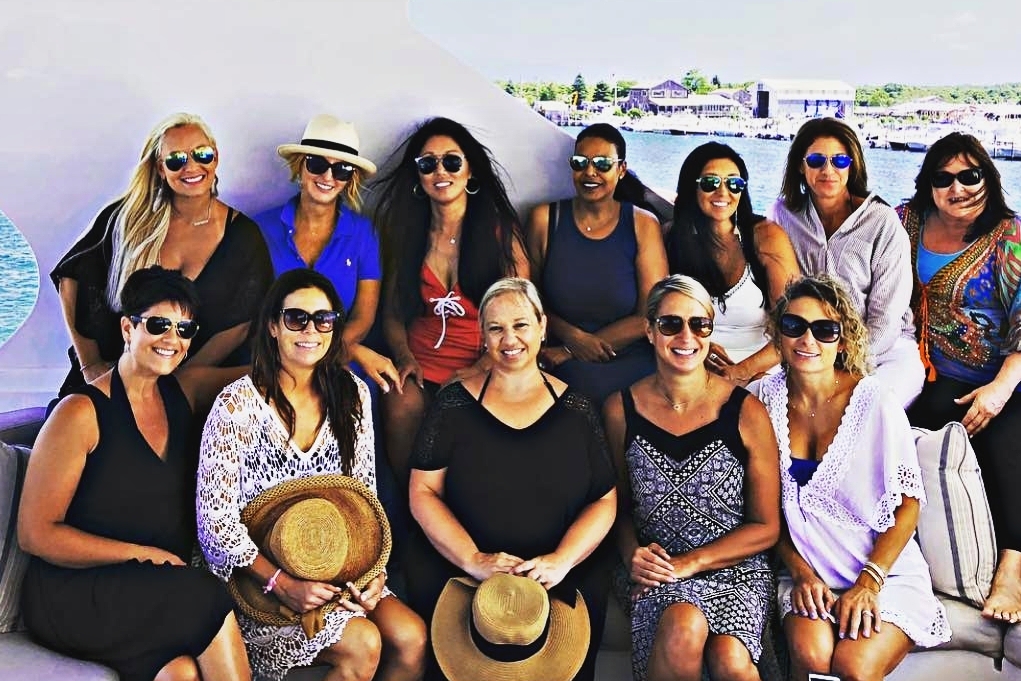 She was brought to the United States at the age of five on December 30, 1974. Kim was adopted by Ralph and Marilyn Kerr. She was raised in Fairport, New York, a Rochester suburb, with her adopted family. Pegula played the bassoon in the school band and was a member of the cheerleading group. During her college life, Kim and her roommate decided to travel to Alaska to work close to a fishing camp to earn money.
Kim Pegula's Education
Kim received her formal education in her local area in New York. Later she attended Houghton College where she studied in Mass and Communications. Kim was active in cheerleading and the school band while she was in college. In 1991, she began working for East Resources after graduating from college. She remained with them up until the 2010 sale of the business.
How did Kim Pegula and Terry Pegula meet?
The love story of Terry Pegula second wife Kim Pegula and her husband is really amazing. She unexpectedly met Terry Pegula in a strange way.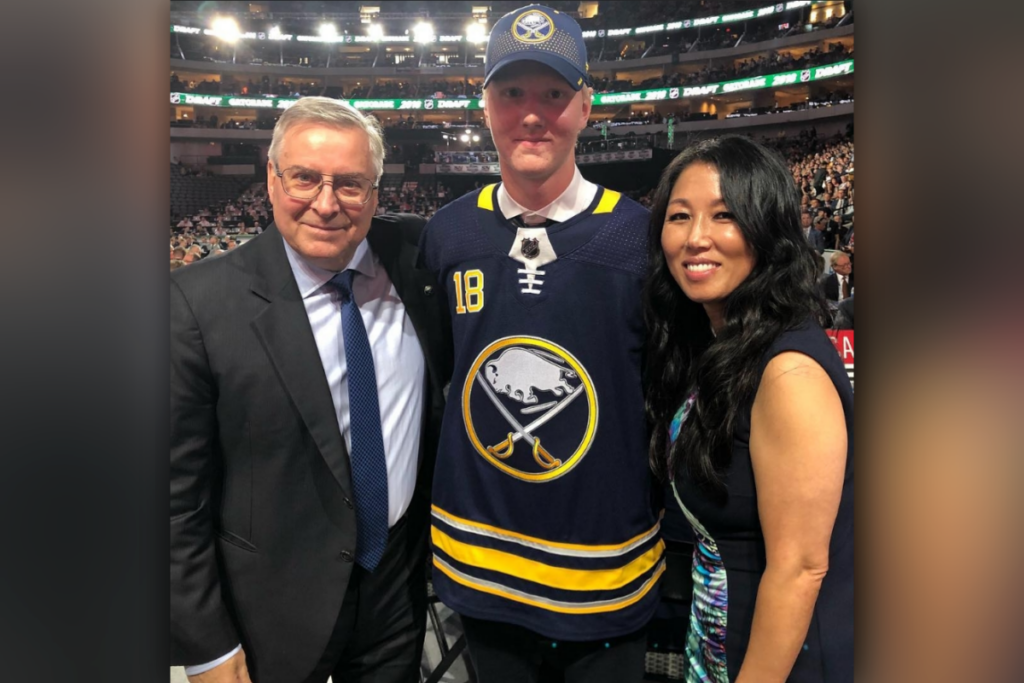 During her interview for a job at a restaurant, Terry, who was eating there, introduced himself to Kim. When Terry gave her a position at his natural gas company in 1991, they subsequently started dating. Their relationship gradually changed into love. They were married after a few years of dating and have been together ever since.
Kim Pegula and Terry Pegula's Marriage
After meeting in a restaurant, Terry feels something for Kim. Eventually, they started dating each other after a few meetings. First, they became friends and gradually their friendship converted into a romantic relationship.
After a few years of dating the romantic couple fell in love with each other. So, the pair decided to get married. After three years of dating, Terry and Kim got married in 1993 in a beautiful ceremony surrounded by friends and family.
Kim Pegula and Terry Pegula's Children
After their marriage, Terry and Kim Pegula become the parents of three lovely children: Kelly, Matthew, and Jessica. Her elder child Jessica is a professional American tennis player, she has made a name in the sports world. Her career-highest WTA rankings are World No. 3 in singles, which she achieved on October 24, 2022, and World No. 2 in doubles, which she recently achieved on May 22, 2023.
Despite being a mother of three children, Kim is a caring stepmother to Terry's two children, Michael and Laura, from his previous marriage. She treats them with the same affection as if they were her own and provides them with the motherly support they need.
Their family is fortunate to have two attractive residences – one in East Aurora, New York, and the other in Boca Raton, Florida. These locations hold a special place in their hearts, as they have shared many joyful moments together in these homes.
Terry Pegula second wife: Career
Kim Pegula has had a successful career, having been part of her spouse's company, East Resources, from 1991 until its sale in 2010. Subsequently, the Pegulas acquired the Buffalo Sabres, along with two associated teams: the Buffalo Bandits of the NLL and the Rochester Americans of the AHL. She played a crucial role in the design and construction of LECOM Harborcenter, a multi-purpose development adjacent to the Sabres' arena, which contributed to the restoration of downtown Buffalo.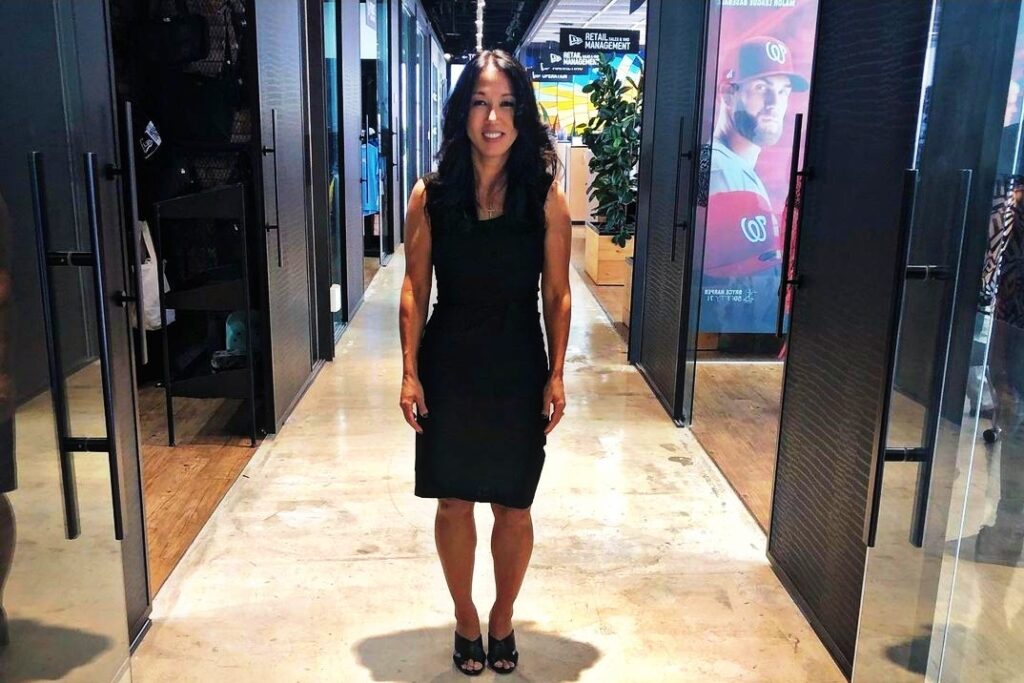 Following the passing of Ralph Wilson, the previous owner of the Buffalo Bills, the football team was put on sale. Several potential buyers, including the Pegulas, Donald Trump, a singer Jon Bon Jovi, and important figures from Toronto-based Maple Leaf Sports and Entertainment, expressed interest in purchasing the team. Ultimately, the Pegulas secured the team with a record-breaking all-cash bid of $1.4 billion.
Kim Pegula was appointed to the National Football League's business ventures committee in March 2018, taking over for Russ Brandon. She also serves on the NFL's Super Bowl and major-event advisory committee.
On May 1, 2018, following Brandon's sudden resignation as president of Pegula Sports and Entertainment, Kim was appointed as president of all the company's properties. This made her the first woman to hold the position of team president in both the NFL and NHL when she took on the role for the Bills and Sabres franchises.
Terry Pegula second wife: Net worth
Kim is dedicated to promoting diversity in sports and serves on committees for both the NFL and NHL to ensure fairness for all. Along with her husband Terry, she owns several successful sports teams including the Buffalo Bills and Buffalo Sabres, as well as the Buffalo Bandits and Rochester Knighthawks in lacrosse, and the Rochester Americans in hockey. Kim is also a prominent figure in the sports and entertainment industry and together with Terry, they have a net worth of approximately 6.7 billion USD.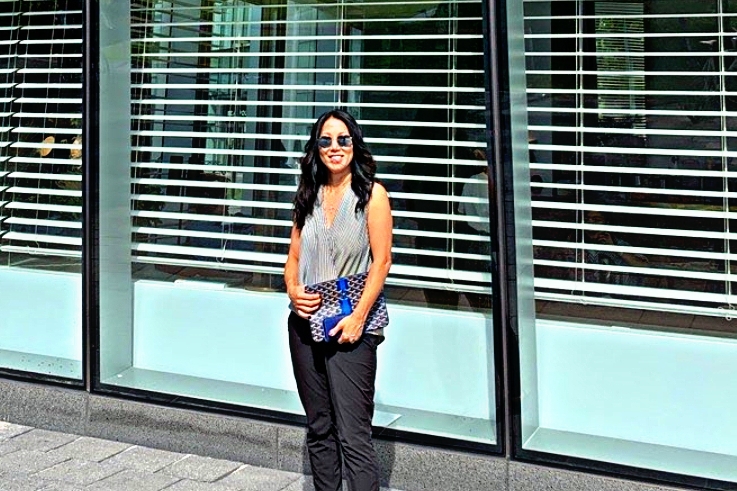 Being a successful businesswoman, Kim Pegula made a huge amount of money. As of 2023, Kim reportedly has an estimated net worth of around $100 million US dollars.
Kim Pegula's Social Handles
Being a popular CEO of Pegula Sports and Entertainment and co-owner of several American professional sports teams Kim is very famous among the fans. She mentions herself as a wife, mother, and truly blessed woman on her social media account.
Terry Pegula second wife Kim Pegula has an Instagram account with over 21k+ followers along with 24+ posts. She frequently shares lovely moments of her daily life on that account to keep her fans updated. She also raised her voice to control social issues through her social media accounts.
Terry Pegula second wife: Religion and Nationality
As she grew up in a Christian family, She is a pure Christian and have faith in Christianity since her childhood.
However, Kim was born in Seoul, South Korea but she was adopted by an American family and raised in Fairport, New York, United States. So, she holds American citizenship.
Terry Pegula second wife: Zodiac sign and ethnicity
Terry Pegula wife Kim Pegula was born on June 07, 1969. As of now, she is 54 years old. She falls in the category of Gemini. These people are known for their funny and curious attitude. However, Kim Pegula is of mixed ethnicity. Her DNA report suggests that one of her biological parents is of Japanese origin.
Kim Pegula's Body Measurements
Kim Pegula is gorgeous and a very kind mother to three children. She has a height of around 5 feet 5 inches and her weight is approximately 68kg. She looks too young in her fifties, She follows a healthy routine to maintain her body. Due to her fitness, she looks younger than the females of her age.
Despite that Kim has an attractive slim body, beautiful black eyes with dark black long hair. However, her body measurements are currently unavailable in the public domain.
FAQs
Q. Who is Terry Pegula first wife?
Ans: Billionaire businessman Terry Pegula first got married to Anne Shirley. The ex-couple first met at their high school. later they fell in love and got married in 1977. They had been married for 16 years and got divorced in 1933.
Q. How many children Terry has from his first wife?
Ans: Terry Pegula has two children from his first wife Anne Shirley. Currently, both children Laura and Michael live with their father Terry Pegula, and step-mom Kim Pegula.
Q. How much is the Bills owner worth?
Ans: Kim Pegula and Terry Pegula are the principal owners of the Buffalo Bills of the National Football League. According to a report, the total net worth of the Buffalo Bills owner is over $7 billion dollars.