Despite the Dallas Cowboys' unfortunate defeat against the Philadelphia Eagles this past Sunday, star linebacker Micah Parsons couldn't help but admire the remarkable performance delivered by quarterback Dak Prescott.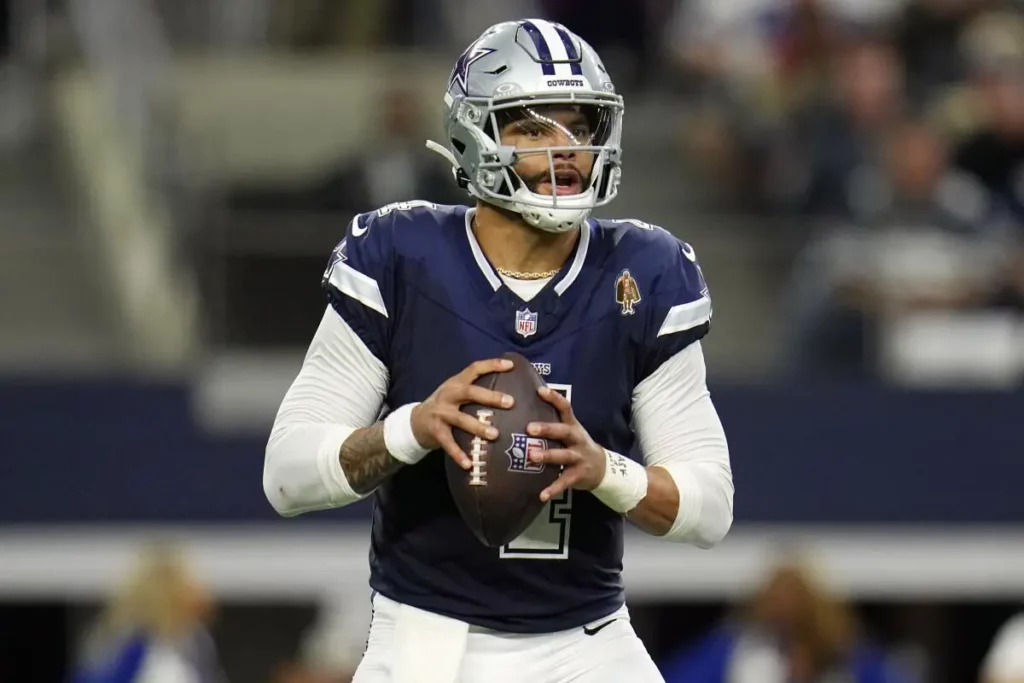 On numerous occasions, I found myself thinking, 'That's Dak Badass Prescott, my friend.' He's a beast. He's a fearless warrior," Parsons expressed to the media following the game. "I possess an extraordinary level of faith in him… I believe it's time for people to appreciate his greatness truly. He outshined everyone out there today."
In a heart-wrenching 28-23 defeat, Prescott showcased his incredible arm strength and precision by throwing for an impressive 374 yards and delivering three awe-inspiring touchdowns.
With a completion rate of 29-of-44, he demonstrated his unwavering determination and skill, leaving fans in awe of his remarkable performance despite the unfortunate outcome. He executed a flawless performance, avoiding any turnovers, yet he encountered relentless opposition throughout the match, resulting in five crushing sacks.
In a thrilling turn of events, the Cowboys found themselves in the perfect position to seize victory with a potential go-ahead touchdown as the clock ticked. Nevertheless, the team's fate was sealed by untimely penalties and a game-changing sack, leaving Dak Prescott's last-ditch throw to CeeDee Lamb just shy of the coveted end zone.
Despite the defeat, Parsons confidently stated that the Cowboys have successfully demonstrated their ability to keep up with the reigning NFC champions.
"We are brimming with an unwavering sense of self-assurance," he declared. I can't help but notice how everyone underestimated us while showering the Eagles team with endless praise. Without a doubt, we bestowed upon them the ultimate match. I won't even add a single drop of gasoline to the blazing flames. We shall cross paths with them once more after four weeks.