Known for his appreciation of New England Patriots head coach Bill Belichick, former U.S. President Donald Trump recently lifted the mood with some fun shots at the team's recent troubles while making a public speech.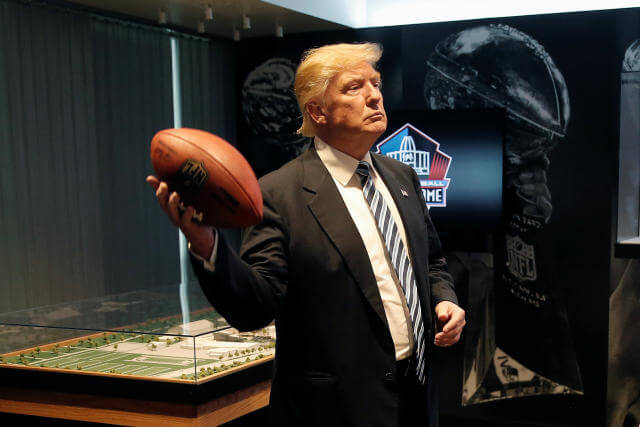 Trump expressed his respect for Coach Belichick in his speech, stating,
"He's a fantastic guy. Excellent coach, He was forced to make fun of the Patriots' difficult season by remarking, "What's up with the Patriots, huh? But he's a superb coach. He will discover a way to do it. He will understand it. But yesterday night's game wasn't very terrific, was it?"
Fans reacted with a mix of wonder and laughter. You rarely see a former president making jokes about a sports team every day.
There was a moment when Donald Trump thought so highly of Bill Belichick that he offered to award him the Presidential Medal of Freedom. In addition to this, Belichick respectfully declined the honor after what happened on January 6 at the US Capitol.
It is important to consider the relationship between the former president and Coach Belichick as we consider these lighthearted comments. Trump and Belichick respected one another, and the coach even sent Trump a sincere letter of encouragement while he was running for president in 2016. The Presidential Medal of Freedom was proposed as a result of their strong connection.
The New England Patriots, a group known for their outstanding performance over the years, have seen some challenges lately. After two decades of dominance, which included six Super Bowl victories, the team is currently rebuilding. Their on-field issues have been made worse by key player departures and a quarterback change.
Coach Bill Belichick, often hailed as one of the greatest football minds in history, has been tasked with navigating this period of transition. Trump's playful jab at the team's recent performance acknowledges the difficulties they are currently facing. Still, he maintains his belief in Coach Belichick's ability to turn things around.
NFL fans, ever vocal and passionate, didn't hold back in sharing their reactions to Trump's lighthearted comments. Social media platforms were flooded with posts and memes, with fans from various teams chiming in. While some Patriots fans appreciated the humor, others expressed their hope for better days ahead.
It is worth mentioning that Coach Belichick's decision to decline the Presidential Medal of Freedom earlier this year garnered significant attention and respect. Many admired his commitment to distancing himself from the political events surrounding the Capitol attack and his focus on the game of football.
Also Read: Patriots coach Bill Belichick is afraid of his girlfriend badly
One thing is certain as we worry about the New England Patriots future and the possibility of Donald Trump winning another presidential election: sports and politics will continue to interact in surprising and occasionally entertaining ways. Sports have traditionally served as an agent of unity that brings people together from all different origins and political beliefs.
In this particular case, it was a previous president's fun attack that made NFL fans grin. It serves as a reminder that whatever difficulties, laughter can bring people together and help us enjoy the lighter side of life.