Joe Burrow didn't ask to make it complete grass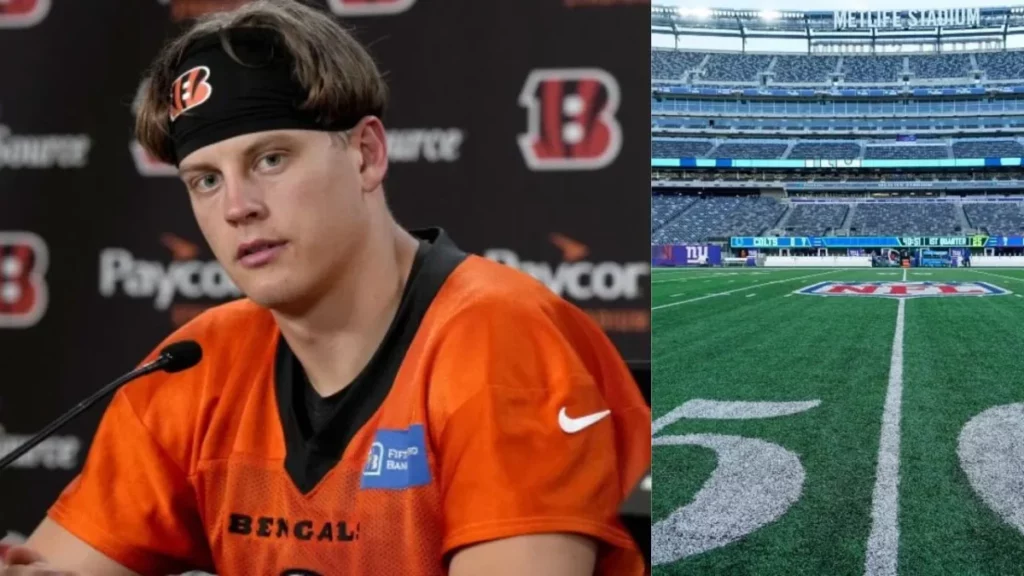 Cincinnati Bengals star quarterback Joe Burrow participated in the ongoing biggest debate about the fields which started after the legendary quarterback Aaron Rodgers injury.
Burrow recently became the highest-paid player in NFL history after signing a contract extension worth $275 million.
The record breaker deal taker Joe Burrow addressed the ongoing debate.
Aaron Rodgers faced a season-ending injury on Monday night's New York Jets debut against the Buffalo Bills. The was played at the MetLife Stadium.
MetLife Stadium's artificial turf has been a matter of discussion over the years.
Several of the big stars said they wanted grass while Burrow did not call for eliminating artificial surfaces entirely, but he said the league should create more consistency with turf fields.
"I think the last couple of years, studies have come out how much safer grass fields are. So I think that's important," Burrow said Wednesday (h/t Pro Football Talk). "I think the most important thing is having a standard for the turf fields, having each turf field across the league have a certain standard, and all of them are the same. Everywhere you go that has turf, each turf is different, and I think having uniformity across the league would be best."
NFLPA President JC Tretter already presented the data regarding artificial turf to more injuries than natural grass in April. After the Aaron Rodgers injury, he again urged the NFL to make a permanent switch to grass.
Also read: Joe Burrow refused to meet his parents after huge contract signing
"Our occupation is dangerous enough, and the increased rate of lower extremity injuries linked to the field surface we are forced to play on is unacceptable," Tretter wrote. "The NFLPA is advocating for teams to convert artificial practice and game fields to natural grass fields. In the meantime, we're fighting on behalf of our players to develop better safety standards and testing methods for artificial turf. There is room for innovation by artificial turf manufacturers, but until the risk of injury on turf mirrors the risk on grass, playing on turf is not in the best interest of our players."
Joe Burrow and the Bengals will be playing against the Baltimore Ravens this Sunday on the same surface.