Patrick Mahomes ditches wife Brittany Mahomes in a concert
Patrick Mahomes, a legendary quarterback for Kansas City Chiefs is greatly known for his football talents, skills and passion. He has won the super bowl two times. He is considered one of the legendary players of the NFL.
Apart from this, he is the husband of a hot, stunning and beautiful wife, Brittany Mahomes. Brittany and Patrick are one of the lovely couples in the NFL world. 
Both are regularly seen enjoying together and partying together. Recently, they attended Luke Combs' concert on Saturday at Arrowhead Stadium.
During the concert, Patrick did something which made fans question. During the concert, he momentarily ditched her to go shotgun a beer. He went on to the stage to shotgun a beer with Country famous music artist Luke Combs.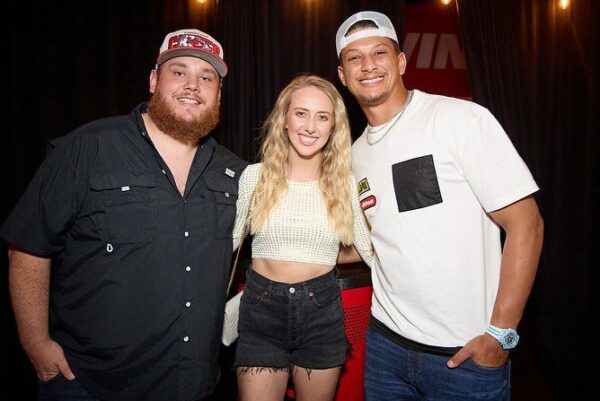 Patrick Mahomes, 27, and wife Brittany Mahomes,27 are parents to two children but that is not a barrier of partying for them. They have been photographed many times partying together. The entire off-season has been one event after another for the couple.
They sat in a sky-box for the concert. According to Brittany's Instagram stories, they were accompanied by Patrick's QB backup Shane and his wife Paige Buechele. 
In the middle of the concert, Patrick Mahomes left the sky box and joined Luke onstage. He showed off his dance skills, sang along and shotgunned a beer with him.
Luke Combs is known for drinking at least a six-pack of beer during every concert but this time Mahomes broke the record by chowing down an entire can in less than three seconds.
Lubbock Boys. Good hangs @PatrickMahomes! #WreckEm 🤠 pic.twitter.com/Tsnr3ivhUh

— Flatland Cavalry (@FlatlandCavalry) June 11, 2023
After winning his second super bowl, Mahomes has not stopped celebrating and has been regularly seen in different spots. Star quarterback recently attended the White House with the Chiefs squad but it was the least wild part of Patrick's offseason.
Read More: Houston Texans took a big decision for J.J. Watt in the 2023 season
He also attended the 14th annual Big Slick Celebrity Weekend, a Kansas City charity event, with his wife and teammate Travis Kelce.
Patrick and wife Brittany have also been seen in Met Gala, the Kentucky Derby, and the Miami Grand Prix in recent months.
Despite all the parties and functions, Patrick has had a rough start to the summer. He suffered a lot because of his brother, Jackson Mahomes.