Hey, football fans. There is some buzz around Beaver Stadium as Penn State gears up to face off with Michigan this Saturday. And guess what? The excitement isn't just about touchdowns and tackles it has a sprinkle of humor too.
So, here is the scoop- Jim Harbaugh, the head honcho of Michigan's team, won't be shouting from the sidelines. Nope, he's got a three-game break. Why? Well, it's a bit like a penalty; he's got some suspension action going on. The Michigan folks tried to get him a quick pass back into the game with a temporary restraining order, but the clock ran out before kickoff. Tough luck, huh?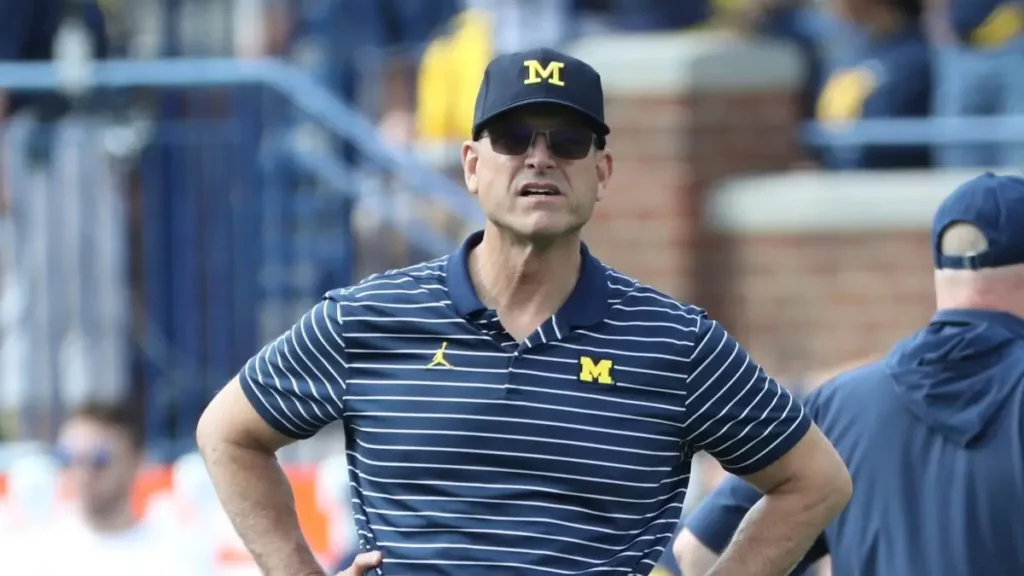 Now, let's talk signs. Inside Beaver Stadium, there is a mini sign party happening. Thanks to Seth Engle from The Daily Collegian, we know what's up. The signs are like little jokesters taking a jab at Michigan's recent sign-stealing saga. Sneaky, right?
Sign number one goes "I Spy." No, it's not a game for kids; it's a shoutout to a guy named Connor Stalions and all the drama that unfolded in Ann Arbor for the past couple of seasons. They're giving a friendly nod to the controversies – a bit like saying, "Hey, we see what's going on!"
The second sign is a classic. It says, "Watch This." There's a Michigan coach, probably Harbaugh, checking out a Penn State player doing a fancy move over an opponent. It's like they're saying, "Harbaugh, you might be on the bench, but check out our moves!"
Also Read: Michael Thomas Opens Up After Police Incident Near His Home
Now, let's talk about why Harbaugh is on a timeout. Michigan tried to pull some strings with a temporary restraining order, hoping to get him back in the game faster than you can say "touchdown." But no luck. They're aiming for a face-to-face chat about it on November 17, hoping to prove that the Big Ten didn't play fair. It's like when you argue about a call on the playground – they want a do-over.
In the meantime, Sherrone Moore is stepping up as the substitute head coach for Michigan in this Saturday's game. It is a bit like having a friend take over your video game controller while you grab a snack, different, but the game goes on!
So, as the Penn State and Michigan teams gear up for the showdown, the signs at Beaver Stadium are adding a dash of fun to the serious stuff. Whether you're cheering for Penn State, or Michigan, or just hoping for a good game, it looks like this Saturday's match will be more than just tackles and touchdowns; it has got a side of friendly banter too!