The Las Vegas Raiders have decided to make a drastic change at the quarterback position, as they will start rookie Aidan O'Connell over veteran Jimmy Garoppolo for the rest of the season, according to a report by NBCLA.
The move comes after the Raiders fired head coach Josh McDaniels and general manager David Ziegler on Tuesday, following a disappointing 3-5 start to the season. The team named defensive coordinator Antonio Pierce as the interim head coach.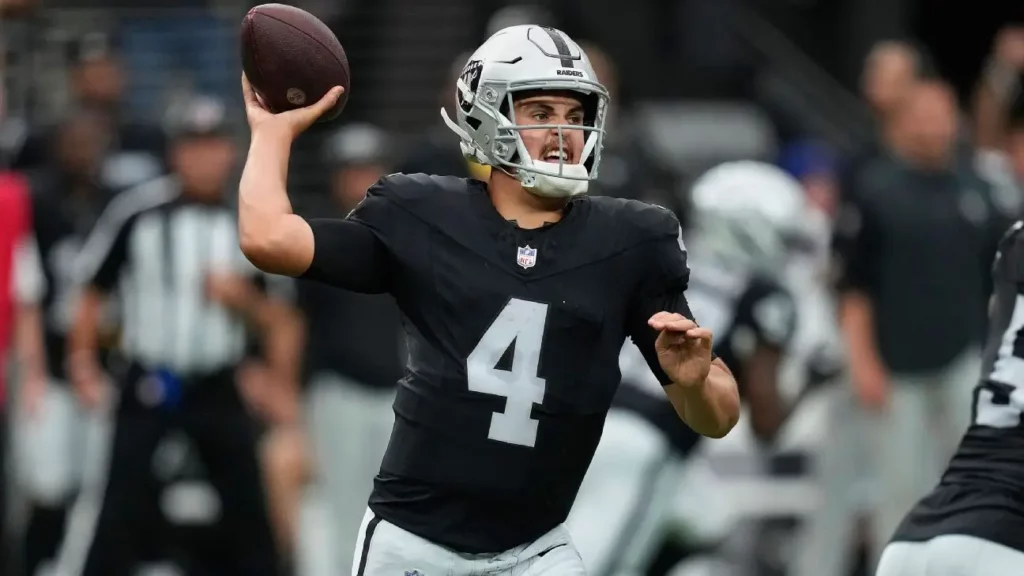 O'Connell, a fourth-round pick out of Purdue, will make his first NFL start on Sunday against the New York Giants at Allegiant Stadium. The 23-year-old has appeared in two games this season, throwing for 287 yards, one touchdown, and two interceptions.
Garoppolo, who was acquired from the San Francisco 49ers in a blockbuster trade in March, has struggled to live up to his expectations in Las Vegas. He has completed 58.7% of his passes for 1,421 yards, seven touchdowns, and nine interceptions in six games. He had a dismal performance on Monday night against the Detroit Lions, throwing for 126 yards and one interception in a 27-17 loss.
The Raiders are hoping that O'Connell can provide a spark for their offense, which ranks 25th in the league in scoring with 19.9 points per game. O'Connell has shown some promise in his limited action, displaying a strong arm and good mobility.
"I'm excited for the opportunity," O'Connell said. "I've been preparing every week like I'm the starter, so I feel ready to go out there and lead this team."
Pierce said he has confidence in O'Connell and believes he can handle the pressure of being the starter.
"He's a smart kid, he's a hard worker, he's got a lot of talent," Pierce said. "He's been learning from Jimmy and our coaches, and I think he's ready to take the next step."
The Raiders are facing a tough schedule ahead, as they will play three division rivals in the next four weeks, including the Kansas City Chiefs, who lead the AFC West with a 7-1 record. The Raiders are currently 1.5 games behind the final wild-card spot in the AFC.
Some fans have expressed their support for O'Connell on social media, while others have criticized the decision to bench Garoppolo.
"I'm glad they're giving O'Connell a chance, he looked good in preseason and he deserves it," one fan tweeted.
"Garoppolo is not the problem, the problem is the defense and the coaching," another fan commented.
The Raiders will try to snap their three-game losing streak on Sunday and keep their playoff hopes alive with their new quarterback at the helm.