It was Aaron Rodgers' first time doing this

The legendary quarterback Aaron Rodgers is known for his great and kind works. He always tries to fulfill his fans' dreams. Recently, he has fulfilled one of his fans' dreams and gone viral for his work.
The clip went viral online, and fans are very happy with his work. Fans are praising Aaron Rodgers for this.
This is going to be his 19th season for the NFL. He completed his 18 seasons with the Green Bay Packers and has done super things there.
Aaron Rodgers, 39, has joined the New York Jets squad this season.
Aaron Rodgers may have signed many footballs, and jerseys throughout his career but what he did was the first time in his 18 seasons.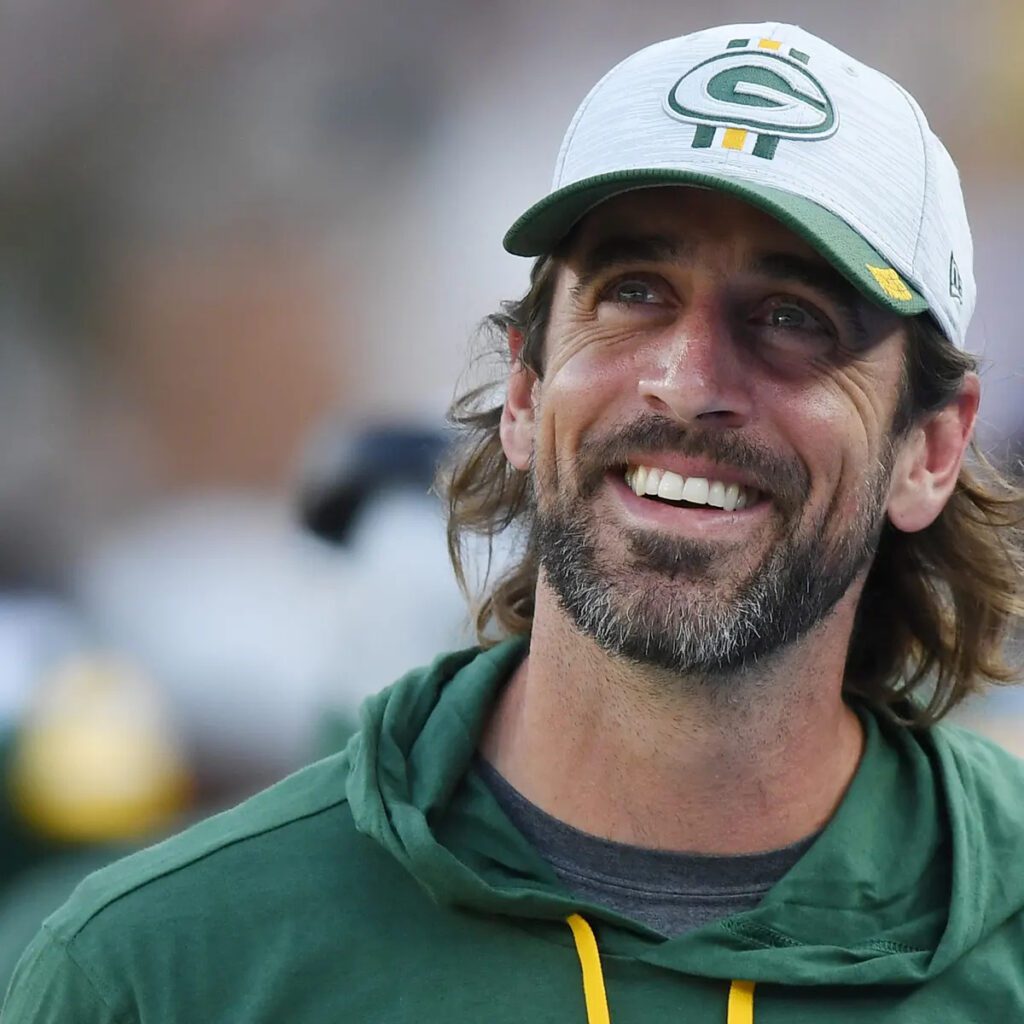 Rodgers was at the 2023 American Century Celebrity Golf Championship Tournament and this tournament brings the most significant athletes to the event.
During the competition, Aaron Rodgers got a shocking request from a fan. A woman asked him to sign her pregnant belly. Rodgers brought the marker and signed his autograph on her stomach, much to the woman's delight.
The video clip of the signing on her belly went very much viral. He also gave her a high-five after signing to the pregnant belly. 
Rodgers jokingly said it was his first time signing a pregnant woman's belly. He did this during the practice round of the Tournament to be held over the weekend.
"Sunday Night Football on NBC" shared the clip on Twitter.
A first for Aaron Rodgers at @ACChampionship! 😂#NFL pic.twitter.com/jgg2VzLqQU

— Sunday Night Football on NBC (@SNFonNBC) July 13, 2023
This season will be very important for Aaron Rodgers as he has been traded after 18 years. He will search for his second Lombardi Trophy, as he won last time in 2010. As it turned out later, Rodgers wasn't even the first person to sign her belly.
Recently, he was compared to Tom Brady for his similar situation. Fans and analysts were comparing Aaron Rodgers with Tom Brady as Brady did an incredible job when he was transferred to Tampa Bay Buccaneers after spending 20 seasons with New England Patriots.
He played 3 seasons in Tampa Bay and just in his first season, led them to the Super Bowl and won the trophy. Some analysts and fans were saying that Will Aaron could emulate Tom Brady. Can he take the Jets to the Super Bowl?
The NFL preseason is just one month away. Fans will be able to see their favorites on the field.
Read More: Buccaneers convincing Tom Brady to unretire for the 2023 season
Rodgers is continuously making headlines over the weekend as he played in the second and third rounds of the Celebrity Golf Tournament.
Other stars who participated in the tournament were Stephen Curry, Patrick Mahomes, Canelo Alvarez and many more.