Dak Prescott to turn 30 on 29 July

Dallas Cowboys star quarterback Dak Prescott will turn 30 at the end of this month and he will complete approximately his seven years in NFL as well as with Dallas Cowboys. Prescott's birth date is 29 July 1993. 
Dallas Cowboys is one of the teams who has failed brutally to reach the NFC championship games. It has been seven seasons since Dak Prescott joined the Cowboys' quarterback position but the result has been the same.
They were very close in 2018 and 2022 but both times they lost to Californian teams i.e. Los Angeles Rams and San Francisco 49ers. 
Many fans blame Prescott for this. NFL analyst Joy Taylor recently said in a podcast that Dak Prescott is not that talented to take the team to NFC Championship games.
The team has also suffered many injuries throughout the years which is also one of the reasons.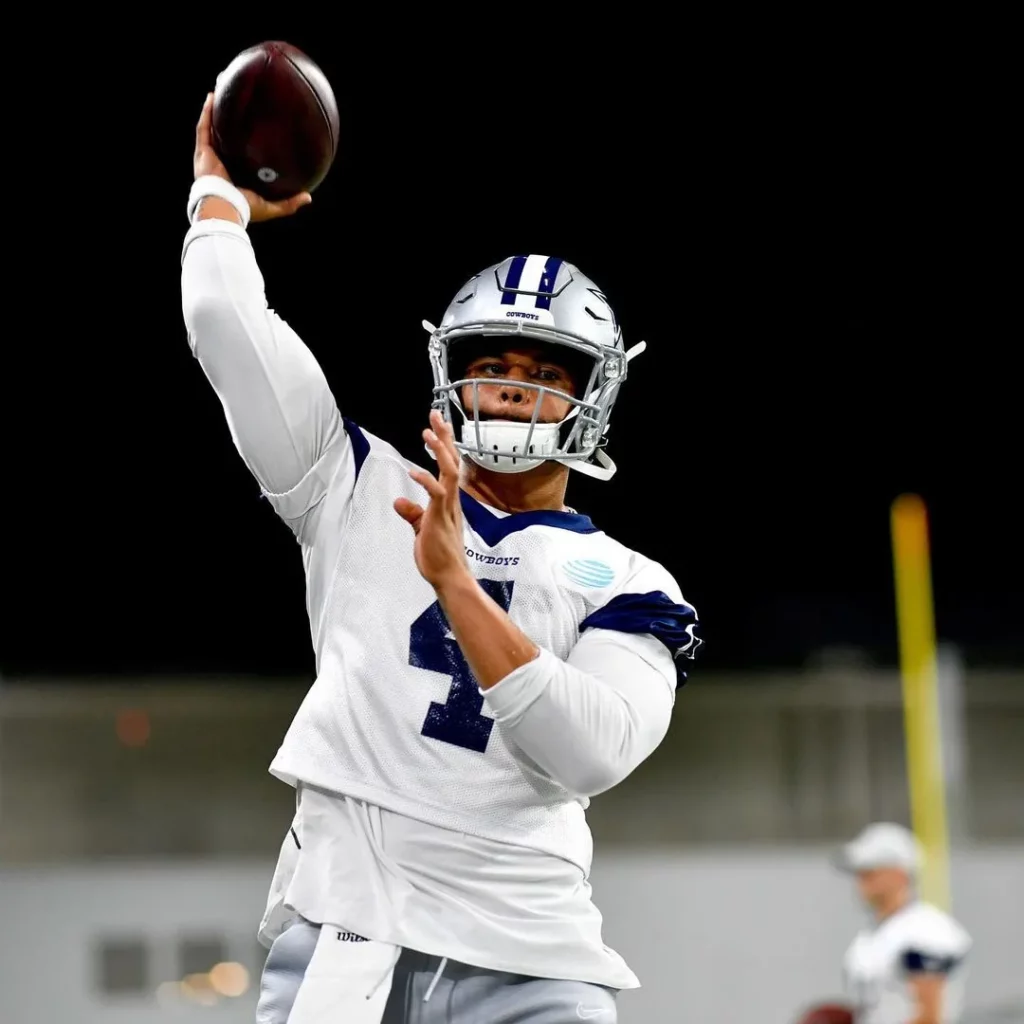 Prescott was recently asked if turning 30 would change his "urgency" when it is about winning. 
"One thousand percent," Prescott said. 
"I've always felt older I guess. Just being 30 doesn't necessarily bother me," he said.
"Knowing that I am the old guy, going into Year 8, seeing some of the young guys, some of the rookies and seeing the difference in eight years. It's fun and challenging at times, knowing that I stay connected and stay in the now with what's cool and whatnot. But this game is beautiful. It doesn't matter how old you are because you play this game like a kid."
Dak Prescott: Turning 30 only increases the urgency to win now. https://t.co/ZwKpeoQxr9

— ProFootballTalk (@ProFootballTalk) July 8, 2023
He added, "Just understanding injuries and what I've been throughout my career and understanding that you don't have forever to play this game. I'm blessed for every moment that I get. Just trying to take it with a sense of urgency."
Dak is turning 30 but he isn't seeing it as the beginning of the end of his career.
Read More: Will Jimmy Garoppolo be available until week 1 of the 2023 season?
Stephen A Smith said on a recent episode of First Take "There is no denying that Dak Prescott is definitely top five in the NFC because his talent demands it. I can't throw shade on a brother even though he had problems last year. Remember, the list is fluid. It's the offseason and we're not looking just back. We're looking ahead. We're being optimistic, at least for now."
But NFL analyst Joy Taylor thinks very differently.
She said, "Dak Prescott is not that talented. We've seen that he's good enough to get the team to the playoffs. …He's good enough to have a high-flying offense, good regular season record, win a division and all those things are inherently good things they make you a franchise quarterback. You will get paid for doing that. You will get endorsements doing that. You will be the face of a franchise doing that.
.@JoyTaylorTalks needs to see a miracle from Dak Prescott this season.

"Dak isn't talented enough to get to an NFC Championship game." pic.twitter.com/9T4b24gEGd

— Speak (@SpeakOnFS1) July 4, 2023
She also added many things.
What are your opinions? Do Comment.