During the previous season, the San Francisco 49ers faced the challenge of utilizing four different quarterbacks due to various injuries. In Week 2, Trey Lance sustained an ankle injury, leading to Jimmy Garoppolo taking over until he also suffered a foot injury in Week 13.
Despite this, rookie quarterback Brock Purdy demonstrated exceptional football skills and helped the team reach the NFC Championship Game. Unfortunately, Purdy sustained an elbow injury during the game against the Philadelphia Eagles, which required surgery during the off-season.
During the current offseason, a competition is underway at the 49ers training camp to determine the starting quarterback among Purdy, Lance, and free agent acquisition Sam Darnold. It seems that there is a leading contender for the position.
On Thursday, following practice, the team's head coach Kyle Shanahan shared his thoughts on the team's performance. He also provided an update on Purdy's recovery from his elbow injury, stating that he was not concerned. Shanahan expressed confidence in Purdy, referring to him as "the real deal."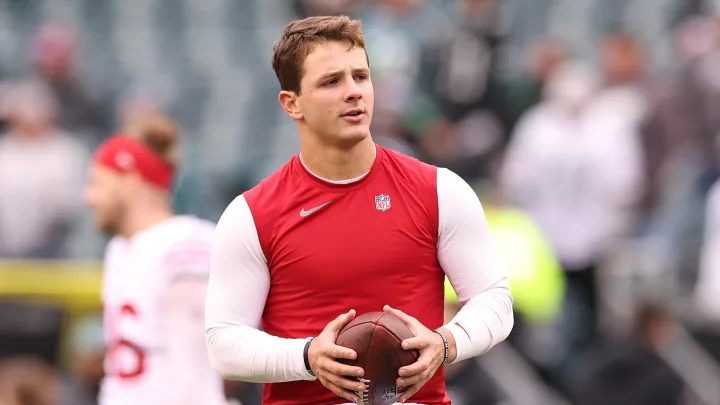 "I don't think anyone's back to where they were, exactly, last season. We're going through training camp, a lot of guys had more practices than him," Shanahan said, h/t ProFootballTalk. "He'll get there. He's doing some good things. We're not worried about Brock. Brock's the real deal, he knows how to play and we just have to have our team keep getting better and we'll keep getting better as we go."
During the NFC Championship Game, Quarterback Brock Purdy was hit in the right arm by linebacker Haason Reddick. Although he had to leave the game due to the injury, he returned after his backup Josh Johnson suffered an injury. However, Purdy was unable to throw a pass due to a torn ulnar collateral ligament (UCL) in his right elbow, which required surgery during the off-season.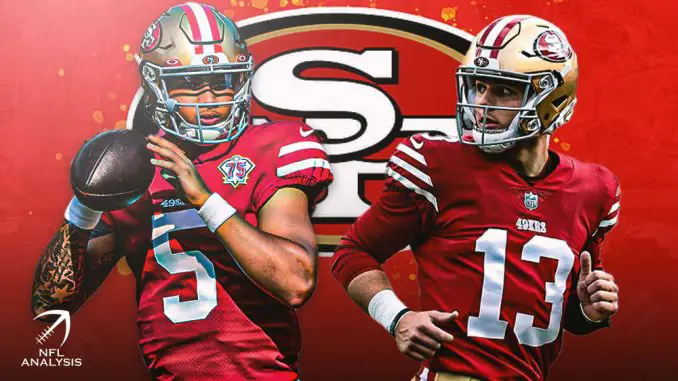 As the season approached, it was uncertain whether Brock Purdy would be cleared to play. This opened up an opportunity for Lance and Darnold to compete for the starting position. The 49ers traded a significant amount of draft capital to select Lance at the No. 3 spot in the 2021 NFL Draft. However, Lance didn't play in his rookie season and was limited to just two games last season due to an ankle injury. Meanwhile, Darnold played with the Carolina Panthers and showed promise toward the end of the season.
In late July, Brock Purdy was cleared for training camp, making him the favorite to begin the 2023 season as the starting quarterback. Although Lance has been struggling in camp, Shanahan is confident in Purdy's abilities to get back into the groove of things.
Read More: The Cleveland Browns won the HOF Game with a bad news