CJ Stroud and Davis Mills quarterback battle for the Houston Texans
Houston Texas rookie CJ Stroud has now spent his first week with the team and has done nothing to disappoint. He has done great this week in the teams' organized activities. Many teams and fans were obsessed with Stroud's skills and it seems he is really doing hard for it.
Now it is one of the big questions for the Texans to find out the quarterback for the upcoming games. Davis Mills and CJ Stroud are supposed to lead the team as quarterbacks and both and both working hard for it.
Although it is seen as a quarterback battle between Mills and Stroud, the number 2 overall pick is expected to start. 
Stroud finished second in the rotation behind Mills last week and doing great in the practice session. He has done nothing in practice to disappoint the coach and selectors. Whereas the Texans, DeMeco Ryans seem pretty happy with CJ Stroud and it is good for him, maybe a great opportunity for him. He said a lot about Stroud This week.
"C.J. is progressing well," Texans head coach DeMeco Ryans said this week, via Brooks Kubena of the Houston Chronicle. "Each day, he continues to get better, continues to get more comfortable with the verbiage of the offense and his command of the huddle. I thought this week he has been really good, coming off of a long weekend. It was very eye-opening how on it he was. . . . He did an awesome job in our situational periods, So, he is definitely progressing in the right direction, and the sky is the limit for him."
Also, the Texans quarterback coach Jerrod Johnson said, Stroud is "already way, way ahead of pace" with his footwork and timing. It is very good for any player that his coaches are impressed with him.
Read more: Tom Brady might return to the NFL with the Las Vegas Raiders
Stroud has gone through his first few weeks in the NFL and attracted a lot of attention including teams veterans players and Texans defensive coordinator Matt Burke. He has impressed people with his football IQ.
CJ Stroud is one of the top picks of the NFL Draft 2023 because of his talent, and skills. His thirst for knowledge is appreciable. All this makes him a star quarterback and this can be the reason for him to get selected for the lead quarterback position. 
But the decision has yet to decide by the team and may it will be announced soon.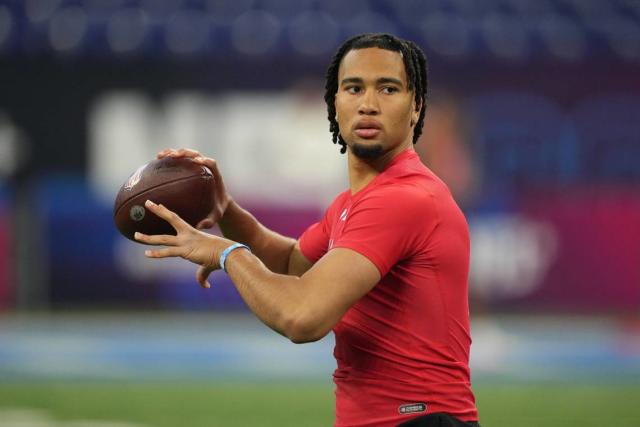 "His deliberateness and intent to try to get better, he's literally grabbing everybody he can on the field," Burke later said. "So, he's been very sort of intentional about learning and just learning defense, too, like what did you call there, what was that coverage, or what did you do here? I respect that from him."
Fans are also curious to know the result of the quarterback battle between CJ Stroud and Davis Mills.
The best can't miss prospect since Peyton Manning, one fan said.
Of course he is and.. *of course he is, another fan said.