Vikings trade pass rushe, Danielle Hunter for their QB of the future in a blockbuster trade proposal.
Minnesota Vikings' star pass rusher Danielle Hunter is one of the big names in the NFL. He is one of the top players in the trade market as the 2023 NFL season draws closer.
According to the NFL network insider Ian Rapoport, last week, the defending NFC North champion, Danielle Hunter has received "trade calls", he is entering the final year of his contract.
From Inside Minicamps LIVE on NFL+: The #Vikings are receiving trade calls centered around star pass-rusher Danielle Hunter, and the interest is real, sources say. A look inside the complex situation… pic.twitter.com/GKx98NSx0n

— Ian Rapoport (@RapSheet) June 7, 2023
At Niners Wire, a case was made by Kyle Madson for the 49ers to try trading for Danielle Hunter. For a potential return, Madson proposed the idea of the 49ers sending breakup QB Trey and a 2024 fourth-round pick.
"As with all trades, it'll depend on how many teams are in the mix and what kind of bidding war goes on for his services. The Vikings will likely get a third-round compensatory pick if he leaves, so that's where the bidding figures to start. A second-round selection in 2024 and perhaps another late Day 2 or early Day 3 pick in 2025 might get it done…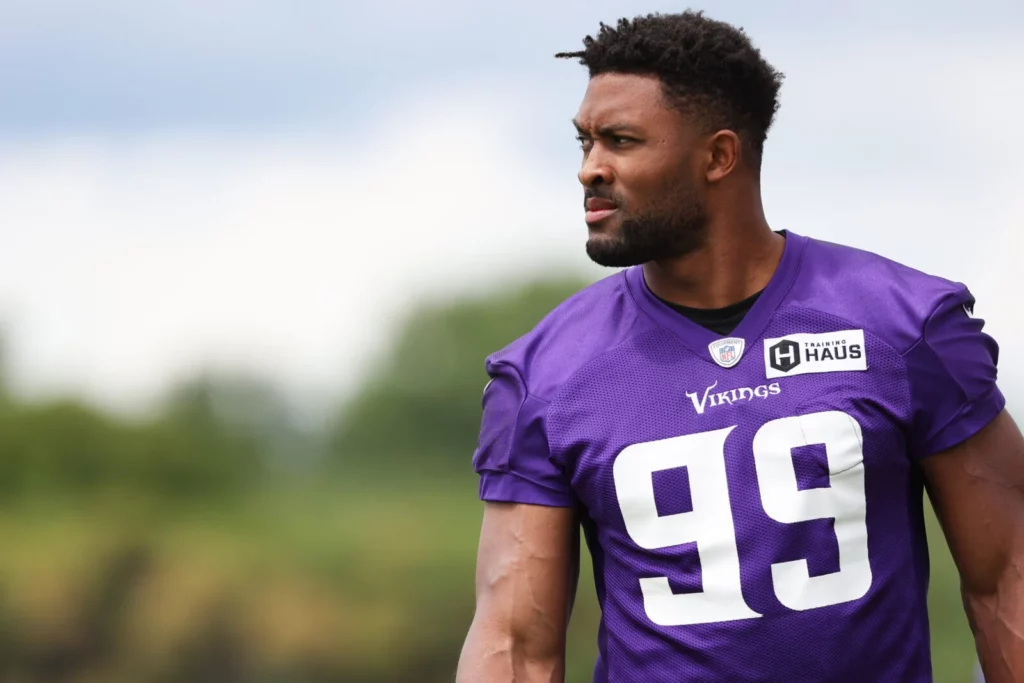 "If San Francisco's coaching staff and front office have genuinely seen enough of Lance to believe he won't be their starter at any point, then it's easy to see them prioritizing their pass rush, making that move, and relying on a Purdy-Darnold-Allen trio to get them through the season.
It'd be a pretty significant risk, but the 49ers have clarified how valuable they think game-wrecking pass rushers are. Lance and one of the 49ers' 2024 third-round picks could be enough to get the Vikings in on a trade."
In the 2018 offseason, Danielle Hunter got a massive five-year contract extension worth $72 million from the Minnesota Vikings. He isn't able to play in the 2020 season due to a brutal injury. He also missed seven games in the 2021 season.
In the 2021 season, he was active and recorded 10.5 sacks en route to his third career Pro Bowl nod.
What do you think of Danielle Hunter? let us know in the comment section below.
Read more: See how Tom Brady feels to join the Raiders as Owner