See How Will Levis' NFL Draft Suddenly turned gorgeous girlfriend Gia Duddy into a Star.
During the 2023 NFL Draft, Will Levis's girlfriend Gia Duddy went viral and she got benefited in various ways from that night.
The newly drafted Titians quarterback Will Levis' girlfriend Gia Duddy went viral during the first round after cameras continuously showed Levis's reaction when he go down the chart and the NFL Qb revealed she'd seen success since.
The American football quarterback finally got selected in the second round of the 2023 NFL Draft. Recently, Levis appeared on BarstoolSports' "The Mid Show" podcast show, where he revealed how his girlfriend's social media accounts have blown up.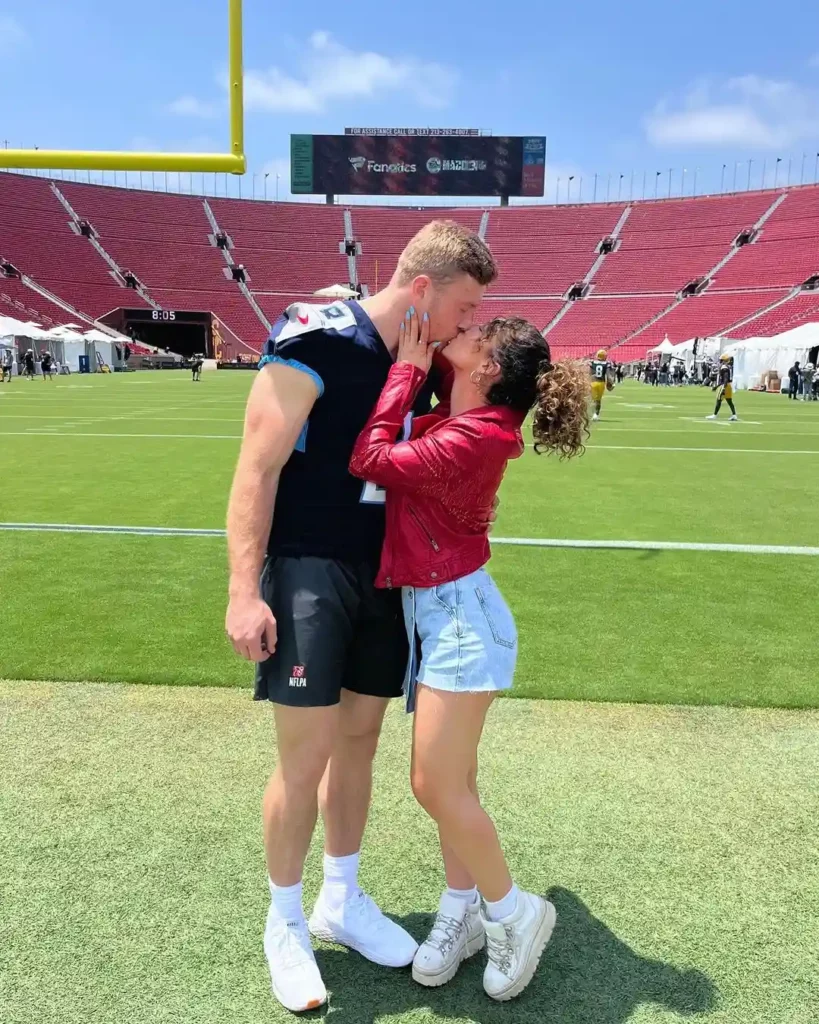 Levis explained in the podcast show that Gia Duddy's social accounts gained millions of attention after the draft night.
He said, "The one positive thing that me and my family took away from draft night is just the attention on social media my sisters and girlfriend got, so that was good.
Must Read: Was Kim Kardashian's 4th July dress a copy dress? This NFL star's wife has shared it
Must Read: Brittany Mahomes seen with Kayla Nicole at the Quarterback premiere
He added that after the draft night, Gia landed a deal with a popular fast-food chain.
Levis told, "She just signed a Burger King deal."
He added, "It's crazy. I was like, You're paying for lunch."
Levis also revealed in the podcast that his girlfriend Gia Duddy gained nearly 500,000+ followers on her TikTok account and 150,000 on Instagram. Currently, she has 156k+ followers on her Instagram.
The Pennsylvania native Gia Duddy recently completed her graduation from Penn State University in behavioral health. She plans to attend nursing school. She is popularly known by her TikTok name omgiaaa.
However, Levis was drafted by the Tennesse Titans in the second round of the 2023 NFL Draft. His current contract is $9.5 million for the four-year. If the Indianapolis Colts had drafted him at No. 4, he would have signed a contract for nearly $34 million.
If the Titans would have signed him in the first round of the 2023 NFL Draft, he would have signed a $20 million contract.
What do you think of Will Levis's girlfriend Gia Duddy? Is Levis only responsible for Gia Duddy's fame? Comment us below in the comment section.
Read more: How many rings does Aaron Rodgers have after Super Bowl LVII 2023