Sports supermodel Veronika Rajek surprised fans in the Baywatch-inspired photoshoot.
Tom Brady superfan Veronika Rajek looked all set to hit the beach despite the rainy London weather.
The Slovakian model Veronika Rajek come to fame in the sports world after expressing her admiration for the NFL legend Tom Brady on her Social media accounts.
As of now, the sports model lives in Cancun, Mexico but for the last few weeks, she spends her time traveling around Europe. She shared some glimpses of her traveling in London on her Instagram account. She shared a couple of photos of her in a restaurant wearing a seductive neon dress with a lovely caption, "It's such overcast in London that I need to wear neon for better visibility 😂 ."
In her recent photoshoot, the Fashion Model showed off her slim attractive body figure in a red mesh swimsuit.
It is said that the Fashionnova Ambassador doing her best to look like Pamela Andreson, a Canadian actress and model who Starred in the original Baywatch television series from 1989 to 2001.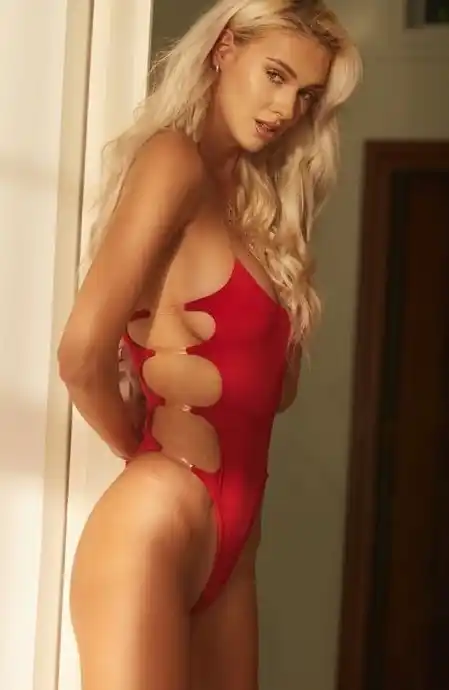 However, NFL fans have reacted over the cozy swimsuit photoshoot:
A fan said, "Great color on you!"
Another fan replied: "Beauty personified"
While a third commented: "The great color suits you 😍"
Must Read: Was Kim Kardashian's 4th July dress a copy dress? This NFL star's wife has shared it
Must Read: See the First NFL Transgender Cheerleader from the TopCat Squad
Recently, Rajek posted about the feud between Elon Musk and Mark Zuckerberg on her Threads account, where she captioned: "VE News: I'll give free of charger my service as a RING GIRL when Elon Musk & @zuck will do the fight #probono."
Post by @veronikarajek

View on Threads
She tagged the CEOs of Meta Platforms and the Ultimate Fighting Championship (UFC), and she also involved UFC President Dana White and Barstool Sports.
However, Elon Musk may not be thrilled about Rajek's post because she did it on Threads, which is a top rival platform to Twitter.
The Instagram Star Veronika Rajek will continue to tour Europe for the rest of the summer.
Read more: Buccaneers convincing Tom Brady to unretire for the 2023 season