Zacch Pickens NFL draft 2023
Zacch Pickens NFL draft 2023, The NFL draft is an annual event where all 32 teams in the NFL select eligible college football players to join their groups. The NFL draft is generally held in late April or in early May, but the exact date can vary from year to year.
The 2023 NFL draft is expected to be highly competitive, as it will feature some of the best college football players across the country. NFL teams will have the opportunity to select from a pool of talented college players who have declared for the draft. NFL fans and Experts are very excited to see which teams are able to secure the top prospects and improve their chances for success in the upcoming season.
Zacch Pickens is an American college football defensive tackle for the South Carolina Gamecocks. He is one of the big names in college football and he is expected to be a great draft pick for the 2023 NFL Draft. The NFL Draft 2023 is going to be held the last April i.e. from 27th April to 29th April. Zacch Pickens is a football player who played college football at South Carolina College. He was a Defensive tackle for the South Carolina Gamecocks and played in 32 games over three seasons.
Zacch Pickens NFL Draft Profile
| | |
| --- | --- |
| Full Name: Zacch Pickens | |
| Draft Year: 2023 | |
| Age: 22.11 years | |
| DOB: 03/06/2000 | |
| Bowl Invite: Senior Bowl | |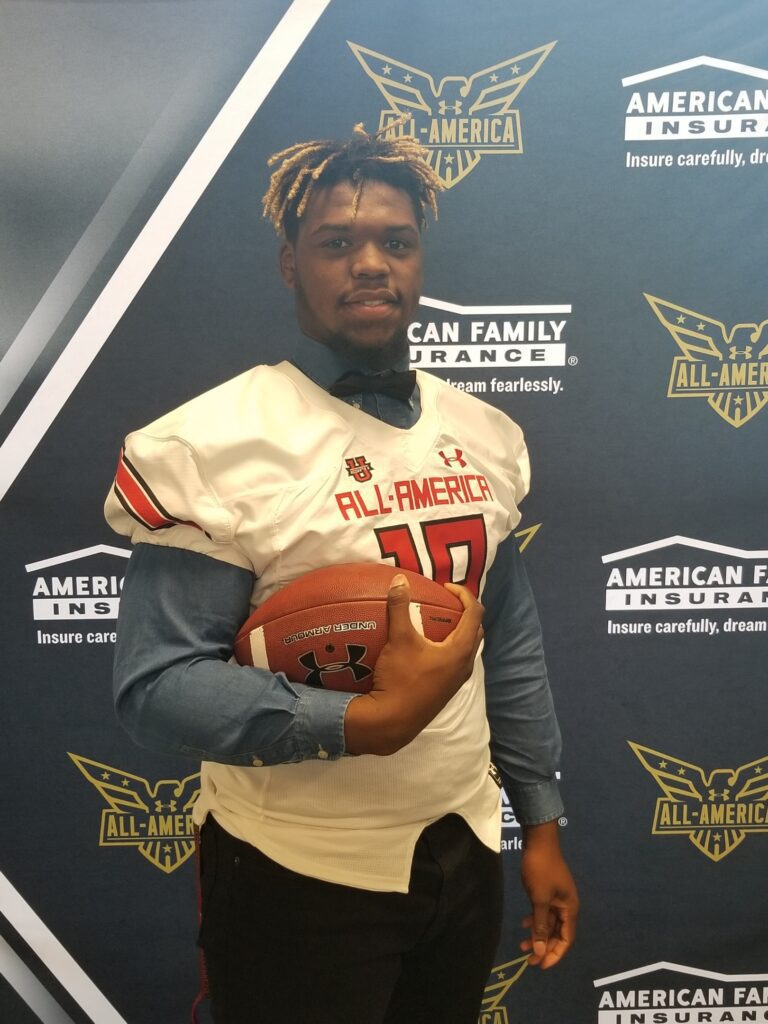 Measurables:
| | |
| --- | --- |
| Height: 6″3′ | |
| Weight: 300 pounds | |
| Hands: 10 | |
| Arm: 34 1/8 | |
| Span: 81 7/8 | |
Who is Zacch Pickens?
Zacch Pickens is the standout player from T L High School and was highly regarded by both ESPN and 247 Sports. He received a 4-star and 5-star rating for his high performance. Following his Great successful high school career, Pickens decided to join the South Carolina team, after very much interest.
According to 247Sports, Zacch Pickens is a five-star player and the No. 1 defensive tackle in the country. He chose to sign with South Carolina over offers from other top programs such as Alabama, Clemson, and Georgia.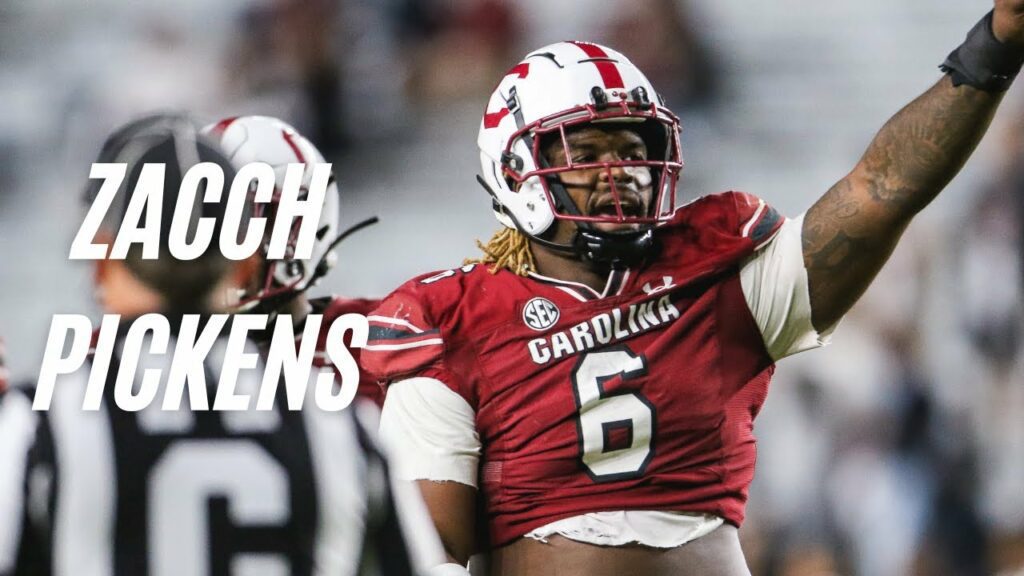 During his starting season in 2019, Pickens played in 12 games for South Carolina and recorded 16 tackles and two sacks. He was also named to the SEC All-Freshman team for his performance.
In his 2020 season, Pickens played in seven games and recorded 16 tackles, four tackles for loss, and two sacks. He also forced two fumbles and recovered one.
Potential Targets and records of Zacch Pickens
Zacch Pickens is a defensive lineman for the South Carolina Gamecocks football team. Pickens was a highly recruited prospect out of high school and has been a key player for South Carolina since his starting year in 2019.
In his freshman career with the South Carolina Gamecocks in 2019, Pickens played in 12 games, amassing 224 snaps. He recorded 11 tackles, 2 assists, and 4 stops throughout the season.
In his 2020 season, Pickens continued to shine on the field, playing in 10 games and taking part in 445 snaps. He up 23 tackles, 13 assists, and 13 stops, as well as 6 total pressures and 5 QB hurries as a defensive lineman.
In the year 2021 with South Carolina, Pickens played in 13 games, contributing to 562 snaps. He recorded 28 tackles, 6 assists, and 22 stops, and showed his prowess as a defensive lineman, producing 14 total pressures, 8 QB hurries, 1 QB hit, and 5 sacks throughout the season.
As a senior in 2022, Pickens continued to impress, he played 12 games and took part in 606 snaps. He recorded 31 tackles, 12 assists, and 22 stops, and showed his dominance as a defensive lineman with 19 total pressures, 13 QB hurries, 3 QB hits, and 3 sacks throughout the season.
According to his college stats, Pickens has the potential to be one of the top defensive linemen in the country in the coming years. He has the ability to win games and he makes big plays for the South Carolina defense. However, his skills and achievements in college suggest that he has the potential to become a successful NFL player in the future.
Zacch Pickens NFL draft 2023
Zacch Pickens is eligible to enter the 2023 NFL draft after completing his senior season with South Carolina Gamecocks in 2022. It is expected that he will be highly sought after by NFL teams due to his impressive performance in college football, his high rating from recruiting services, and his potential as a defensive lineman. The NFL draft is highly competitive and unpredictable, so it remains to be seen where Pickens will be selected by which team.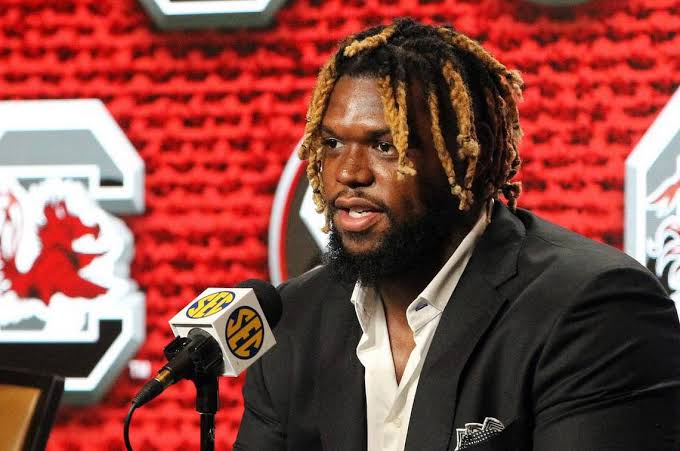 With his size, strength, and athleticism, he has the potential to be a dominant force on the defensive line and a potential first-round NFL draft pick in the future.
South Carolina Draft Prospects
| | |
| --- | --- |
| Overall Rating: 82.5 | |
| Tackling: 59% | |
| Pass Rush: 82% | |
| Run Defense: 66% | |
| Draft Projection: 4th | |
| Overall Rank: 130 | |
| Position Rank: 27 | |
| College Games: 47 | |
| College Snaps: 1837 | |
| ESPN Rating: 86/100 | |
| 247Sports Rating: 98/100 | |
| Rivals Rating: 6.1/10 | |
Zacch Pickens Strenght
Pickens is a very good mover who excels at chasing down ball carriers in tracking. His size and build are ideal for his position making him effective at covering multiple gaps.
He has an impressive physique, with power and thickness. His lower body is especially strong which allows him to dominate at the point of attack.
One of his most notable strengths is his quickness. He has impressive movement and balance, making him a versatile defender capable of covering gaps.
He is also extremely effective in generating power from his lower body, enabling him to anchor well in the run game and win at the point of attack.
He is especially skilled at making chest-to-chest tackles and his ability to move quickly and generate power from his lower half makes him a valuable asset to any team.
Zacch Pickens Weaknesses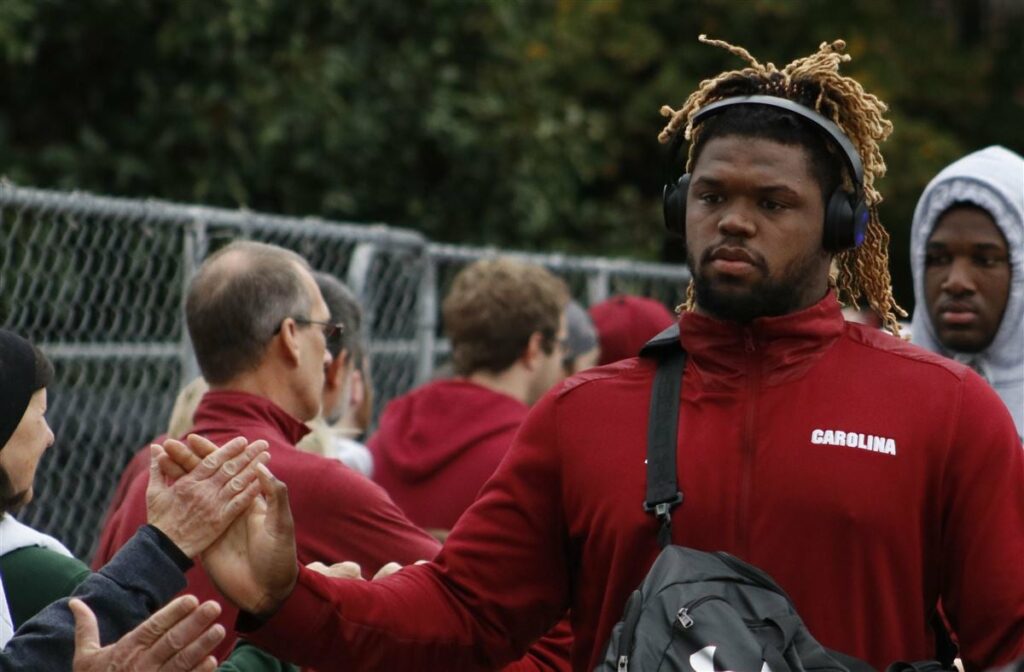 Zacch Pickens needs to work on his hand use and reading plays. He struggles to shed blocks and can be easily taken out by double teams.
His lateral movements and pursuit skills are average. He doesn't cover a lot of ground when chasing down opponents from behind.
Pickens is an average athlete with average speed and flexibility. He's not too quick and doesn't have a wide range of pass-rush moves.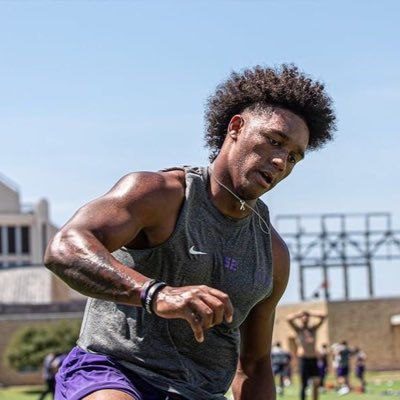 As a pass rusher, Dee Winters needed the plan to create deception and confusion to give him free runs. His lack of size shows up very often and he is not a great athlete.
Click here to know more about Dee Winters NFL Draft 2023
Top reasons to buy Zacch Pickens
There are many reasons to buy Zacch Pickens, but here we discuss the top three reasons why should a team consider him to buy:
Physical Traits: One of the top reasons to buy Zacch Pickens is his impressive Physical traits. He is a highly talented athlete with a rare combination of size, speed, and strength that makes him a dominant force on the field. Pickens is 6"3' and 305 pounds, with a muscular build and impressive athleticism. He has quick feet, explosive power, and excellent hand usage, which makes him a difficult player to block and allows him to create pressure in the backfield.
Pass Rush Ability: Pickens has an impressive ability to rush the passer. He has quick strategies and excellent hand technique, which allow him to beat offensive linemen and get into the backfield. He also has a habit of reading and reacting to plays, which allows him to make plays even when he is not the primary target.
Big on big block deconstruction: one of Pickens' greatest strengths is his high ability to break running plays. He is exceptional at shedding blocks and getting into the backfield to disrupt running plays before they can get started. He has excellent awareness and uses his size and strength to overpower offensive linemen and break their blocking schemes.
In which team can Zacch Pickens fit
Zacch Pickens is an interesting mix of talent and speed that makes him an explosive player with excellent skills. According to his abilities and experience, he can become one of the most brilliant and talented players. He hasn't got any chance since 2022 and this year could open up a lot of opportunities for him.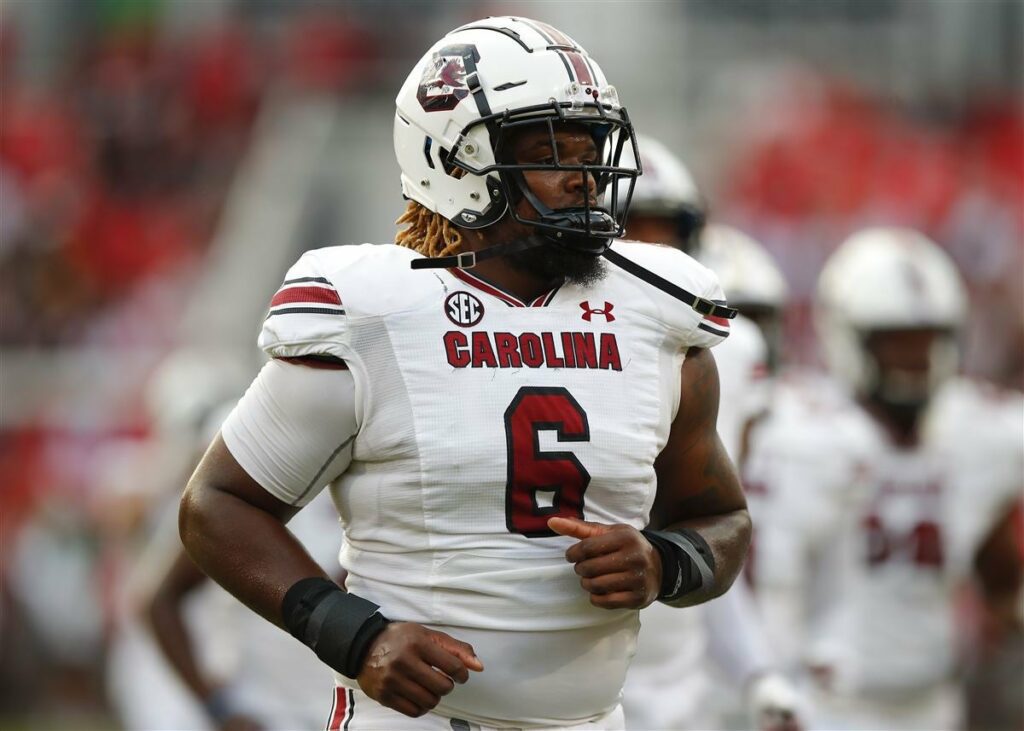 Looking at his skills, it is believed that all avenues can be open for him. This will be a huge opportunity for Pickens to prove himself. He will be hoping to make his professional debut in the 2023 NFL Draft. Every team is looking for a good player for them and Zacch Pickens has that ability.
Q. Is the NFL Draft 2023 free to attend?
Ans – Yes, All three days of the NFL Draft 2023 are free to attend. Download the NFL's One Pass app for entry to the Draft.
Q. How many picks are in the NFL Draft 2023?
Ans – In the NFL Draft 2023 there is a total of 259 picks in 7 rounds.
Q. Can I enter the NFL Draft after freshman year?
Ans – To be eligible for the draft, players must have been out of high school for at least three years and must have used up their college eligibility before the start of the next college football season.
Q. Who has the most first-round picks in 2023
Ans – Houston will have the most draft picks in the 2023 NFL Draft with 12, including two in the first round.