Running back Saquon Barkley has spoken after the New York Giants failed to reach a contract extension agreement with him.
The NFL star has been locked in talks over a new long-term deal for several weeks.
On Monday, the NY Giants revealed that the team had not agreed on fresh terms, following the 4 pm deadline.
However, after the deadline Saquon Barkley tweeted a post on social media: "It is what it is."
It is what it is

— Saquon Barkley (@saquon) July 17, 2023
The deadline to reach an agreement was 4 pm on July 17, which has passed, and the running back will now play under the franchise tag.
According to Ryan Dunleavy of the New York Post, Giants' best offer to Barkley was $19.5 million of guaranteed money.
Due to the failure to secure a new contract, it is not clear whether the star running back will play for the New York Giants in the upcoming season as he could opt to stay away from the team.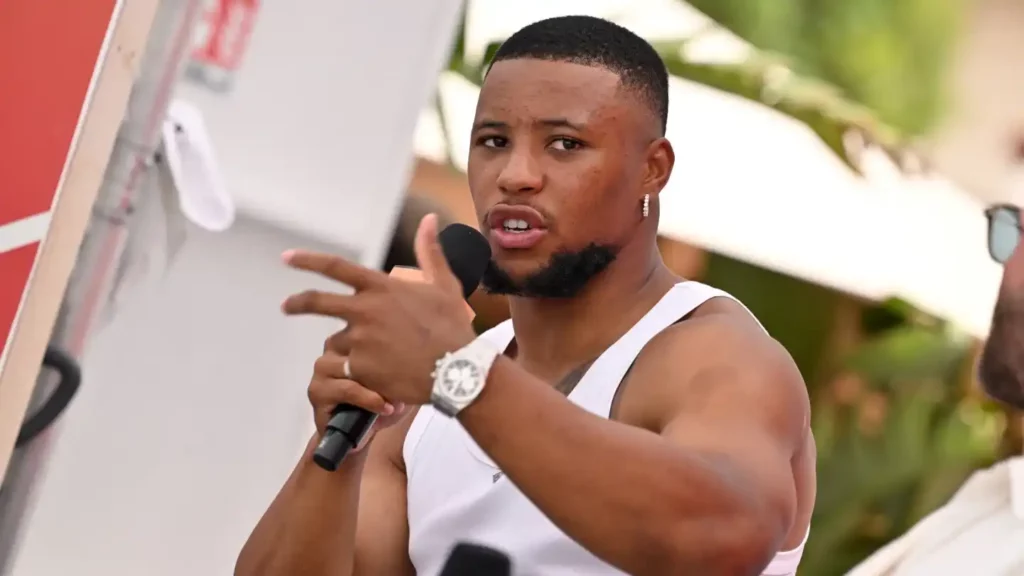 Despite knowing the fact that Barkley was their best player last season and helped the team to reach the playoffs, they ignored him.
It seems like his future with the NY Giants is about to end, with just one year left on his contract.
However, Giants fans reacted with shock over this news:
I'm sorry that they don't appreciate you and the value that you bring to their franchise! We should make room for you in Dallas.

— Shannon Novella (@tx_princess78) July 17, 2023
As a Giants fan, if you sit out. I respect it. Get your bag Saquon. You know your worth, and as a fan I don't fault you.

— JokicBedAh🤑 (@RipsAndSlips) July 17, 2023
Makes me absolutely furious , you and @iAM_JoshJacobs both deserve way better

— Louis Joseph (@LouistheNative) July 18, 2023
Don't show up, you're worth way more than this. They'll see it if you're not on the field

— Uncle Snacks (@BettingwSnacks) July 17, 2023
However, the NFL side and Barkley will now have to wait until the 2024 season to enter a new multi-year deal.
Read more: NFL world shocked by Brittany Mahomes daughter's Soccer skills