The Cleveland Browns Predicted to Trade Away $57 Million defensive lineman Wyatt Teller.
The Cleveland Browns are known for having the best offenses in the NFL, but even the best things eventually fall apart.
It was a message stated by Jacob Roach of USA Today's Browns Wire. On Wednesday, June 14, he predicted two-time Pro Bowl right guard Wyatt Teller as the team's most likely trade candidate.
"Though I don't see anything happening until next year, I think the most likely [trade] candidate is Wyatt Teller," Roach wrote in response to a mailbag question. "He hasn't been as good as he was when the extension was given, and [the Browns] have so much money invested in the rest of the line. It will be telling next offseason if they sign a veteran guard in free agency that they are leaning [toward moving] on. Teller is good, but he is much better as a run blocker than a pass blocker, and the offense will be throwing the ball a lot more going forward."
In November 2021, the Browns signed a four-year extension worth $56.8 million with Wyatt Telle for $29.1 million guaranty money. The deal keeps attached him to the franchise through the 2025 season.
Roach's position that Teller hasn't been as good since signing his extension is a hard sell, considering the guard went on to earn his first Pro Bowl nod in 2021 and followed it up with another last year. He has also won second-team All-Pro honors twice in his career (2020, 2021)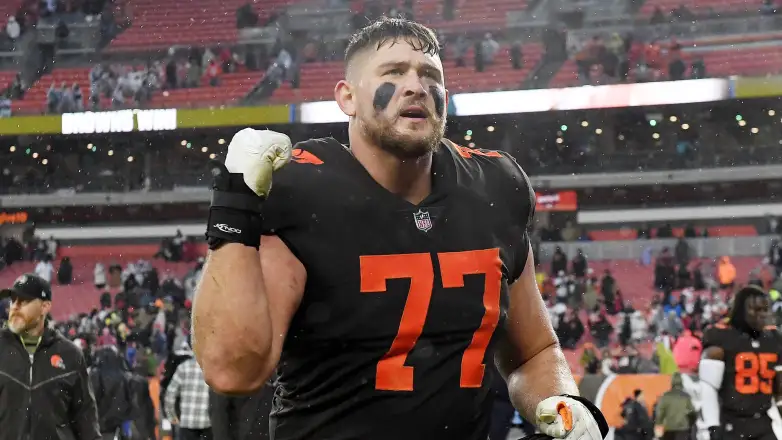 In the coming November, Teller will turn 29 years old and he is near the end of his sixth professional campaign. He has been very good from the health standpoint, appearing in 58 of 66 regular season contests over the past four seasons and earning 52 stats during the span, per Pro Football Reference.
According to Pro Football Focus, offensive lineman, Wyatt Teller finished the 2020 campaign with an overall player grade of 70.3, which included a run-blocking grade of 70.3 and a pass-blocking grade of 67.9. Leller's numbers rendered him the 18th-best guard in the NFL last season out of 77 players who played enough snaps to qualify at the position.
What do you think of the Browns' Wyatt Teller Trade? Let us know in the comment section below.
Read more: Why did the Vikings trade pass rusher Danielle Hunter in the 2023 season